Crane wins gold on final day of gymnastics competition at 2018 Commonwealth Games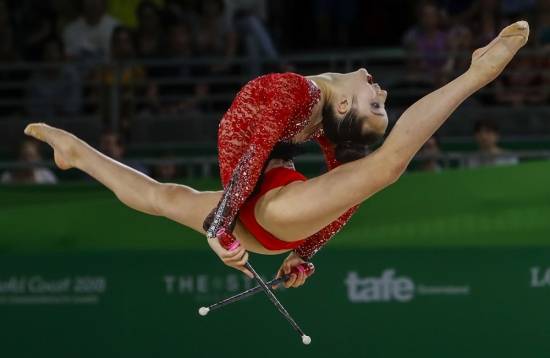 GOLD COAST, AUS (April 13, 2018) – The rhythmic gymnastics competition at the 2018 Commonwealth Games in Gold Coast, Australia wrapped up today with 15-year-old Sophie Crane of Toronto, ON capturing the gold medal with her clubs routine.
Crane started her routine by dropping her clubs, but the rest of her routine was flawless, leaving her with a total score of 13.950 to take the gold over Sie Yan Koi of Malaysia who took the silver with 13.850, and Diamanto Evripidou of Cyprus who took the bronze with 13.550.
"My routine, I know it has a lot of difficulty in it, and the rest of the routine, besides that one drop was well executed in my opinion, so I guess the score came because of the rest of my routine," said Crane who trains out of Jusco RG in Toronto. "I didn't expect to get this, this is my first competition as a senior so this is just incredible. It was a shock to be able to get here, let alone qualify for the individual finals and the apparatus finals - and then to get a medal is just amazing."
Crane also competed in the hoop final where she finished 7th.
Also competing today was Katherine Uchida of Toronto who won the silver medal last night in the all-around competition. Despite laying down solid routines once again, she was unable to mount the podium – finishing 5th in hoops; 5th in clubs, and 8th in ribbon.
2017 Canadian all-around champion Carmen Whelan of Aurora, ON was forced to withdraw from the ribbon final today after experiencing concussion symptoms.
Canada wraps up the gymnastics competition at the 2018 Commonwealth Games with 13 medals:
GOLD - 4: Women's team (AG); Women's all-around (AG – Black); Women's vault (AG – Olsen); Clubs (RG – Crane)
SILVER – 6: Men's team (AG); Women's vault (AG – Black); Women's uneven bars (AG – Rogers); Men's floor (AG – Morgan); Men's high bar (AG – Paterson); Women's all-around (RG – Uchida)
BRONZE – 3: Women' floor (AG – Olsen); Men's pommel horse (AG – Clay); Men's rings (AG – Morgan)
For complete results visit: https://results.gc2018.com/en/rhythmic-gymnastics/daily-schedule-date=2018-04-12.htm
Julie Forget
+61 0421 006 831 (from Canada)
421 006 831 (in Australia)
Email: jforget@gymcan.org