Commonwealth Sport Pride Network launched to positively champion LGBTQ+ inclusion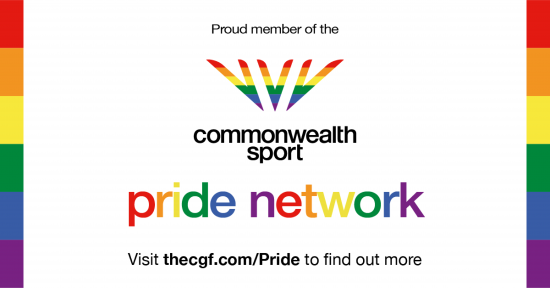 An international working group of athletes, CGAs and stakeholders has set out four key areas of focus – community, education, visibility and influence – enabling the network to:
Create a safe space for LGBTQ+ people and allies to meet, support and coordinate activities as a community
Increase visibility and awareness of LGBTQ+ inclusion and participation in Commonwealth sport and positively promote equality, role models, best practice and support Pride House at the Games
Support allies, CGAs, Games organisers and other stakeholders through information-sharing, training and education
Provide a collective platform to influence and drive positive change for LGBTQ+ acceptance and equality across Commonwealth Sport and the wider Commonwealth.
Athletes, coaches, stakeholders and team members can sign up at www.thecgf.com/pride to become part of the network and get involved supporting activities at Birmingham 2022 and across the Movement.
Commonwealth Games Federation President Dame Louise Martin DBE said: "We are launching today the Commonwealth Sport Pride Network to champion and enable LGBTQ+ inclusion at the Games and across our Movement. We hope the network will be a safe space to connect, support, learn, understand and celebrate. This is not a political movement, but an opportunity to champion inclusion and tell stories in a positive way. In launching this voluntary network, we are mindful of Commonwealth-wide realities. Our cultural and religious diversity defines our family, and it is important for the CGF to continue to lead by example, embracing our shared passion for sport and living our values of Humanity, Equality and Destiny. "The Games for Everyone" we all hope Birmingham 2022 will provide an inspiring and important opportunity to engage, champion and benefit many diverse communities, and I am proud that this will now include support and initiatives for the LGBTQ+ sporting community."
CGF CEO Katie Sadleir said: "Equal rights are a cornerstone of the Commonwealth Sport Movement. In recent years, the CGF and our members have taken bold action to support Para sport inclusion and gender equality and we continue to drive efforts to address racism and post-colonial legacies. To date, however, there has been little discussion on LGBTQ+ rights and opportunities, so I am delighted – and extremely thankful to our working group and wider network of CGAs – that we are able to launch this voluntary network today."
Commonwealth Games Minister Nigel Huddleston said: "This network is a fantastic opportunity to celebrate the extraordinary achievements of the LGBTQ+ Commonwealth community. It will promote inclusion, education and equality and also provide an important safe space for LGBTQ+ athletes from across the Commonwealth to come together at Birmingham 2022. We hope it will be a powerful voice for LGBTQ+ athletes and harness the power of this unique sporting family to strengthen our shared Commonwealth goals of democracy, development and peace."
Jamaican swimming star Michael Gunning, who has worked with the CGF to help establish the Commonwealth Sport Pride Network, said: ""I am delighted to see the launch of the Commonwealth Sport Pride Network which is a ground-breaking moment in international sport. With my longstanding personal journey in commonly advocating for LGBTQ+ inclusion in sport, and with the Birmingham 2022 Commonwealth Games next year, we have a fantastic opportunity to provide a platform for visibility and impact. I would encourage all athletes and allies to sign up to the network and encourage everyone to work closely with us to bring about requisite inclusion by sharing our stories in a positive and impactful way."
England squash player Sarah-Jane Perry, who won silver at the Gold Coast 2018 Commonwealth Games, said: "The Commonwealth Sport Pride Network is a fantastic coordination group that will bring together like-minded individuals to drive positive action. This is an exciting moment for the Commonwealth Games and for Commonwealth Sport so I hope that many athletes, coaches, partners and allies can get involved."
Pide House International Co-Chair Lou Englefield said: "The launch of the CSPN is a huge step forwards in the inclusion, participation and visibility of LGBTIQ+ people in sport throughout the Commonwealth. The network will provide much needed support and leadership when LGBTIQ+ people's lives and rights are not experienced equitably and in some areas are under threat of being rolled back." 
Athletics Pride Network Co-Chair Andy Paul and Pride in Water Chair Joshua Devine said: "The Athletics Pride Network and Pride in Water, whole heartedly welcome the Commonwealth Games Federation's continued commitment to inclusion and equality for the LGBTQ+ community across the Commonwealth through the new Commonwealth Sport Pride Network. Together both Pride in Water and the Athletics Pride Network look forward to working in partnership with the CSPN to help generate positive and substantial change for Birmingham 2022 and across the Commonwealth going forward."
Visit the Commonwealth Sport Pride Network website and sign up to be part of it, click here