Commonwealth Sport Canada's SportWORKS Program Returns to Botswana in May 2022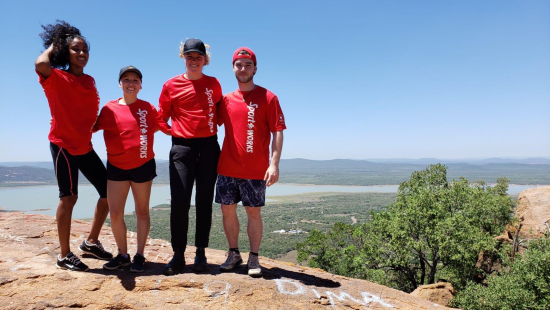 Date: May 5th, 2022
OTTAWA – Commonwealth Sport Canada (CSC) is in its 30th year of using sport as a development tool to promote community and social development as well as build national sport capacity throughout the Commonwealth. In the past three decades, CSC's international sport for development programs have impacted over two million youth in more than 30 nations and territories.
Since 2015, CSC has partnered with the Queen Elizabeth Scholars (QES) program and the Rideau Hall Foundation to support Canadian SportWORKS Officers in four-month assignments, as part of multi-year sport for development and sport development projects in Africa and the Caribbean. The projects focus in various areas such as: the empowerment of women and girls, youth leadership development, community engagement, Long Term Athlete Development (LTAD), and multi-sport games planning and implementation.
Following a hiatus due to the pandemic, the SportWORKS program resumes in Botswana, where CSC will partner with the Botswana National Olympic Committee and various National Sport Organizations in order to develop and implement a Long Term Athlete Development (LTAD) Model. Calgarian Eric Gratton, a senior Health and Physical Education student at Mount Royal University will be the Canadian SportWORKS Officer leading this project starting in May 2022. With a Major in Physical Literacy and a Minor in the Business of Sport and Recreation, Eric has been involved in high level sport throughout his life and currently plays for the Mount Royal University varsity rugby team. As someone who has experienced the Canadian Long Term Athlete Development (LTAD) Model in multiple sports, Eric hopes to learn more about LTAD, and use some of his own experiences to help build Botswana's Long-Term Athlete Development model.
"The SportWORKS program is a significant and important highlight to our program", noted David Legg, Professor and Coordinator in the Department of Health and Physical Education at Mount Royal University. "The students certainly benefit directly from the opportunity to learn abroad and make important contributions to sport but so too do the faculty and peers who help prepare the selected candidate and then learn from them when they return."
The Queen Elizabeth Scholars program is financially supported by the Rideau Hall Foundation and delivered in partnership with Universities Canada. QES allows youth to develop a global outlook, empathy, and understanding – all of which are essential for navigating the complexities of today's world. CSC is currently working with Mount Royal University to identify students who will be supported by QES to work as Canadian SportWORKS Officers at various locations in Africa and the Caribbean.
"CSC is thrilled to be able to resume its ground breaking sport for development work internationally," said Richard Powers, CSC President. "In delivering positive social impact through sport, our SportWORKS projects will continue to use sport to impact lives and transform communities around the world. We thank the QES for their support as well as Mount Royal University for their collaboration and wish Eric the best of success as he sets off to Botswana for his work with the Botswana National Olympic Committee and a number of sport organizations."
Commonwealth Sport Canada is proud to have been one of the world's pioneers of international sport for development and to have been working in this field now for three decades.
For more information:
Commonwealth Sport Canada
Ryan Pelley
SportWORKS Program Manager
613.244.6868
ryan.pelley@commonwealthsport.ca
ABOUT COMMONWEALTH SPORT CANADA
Commonwealth Sport Canada (CSC) is the franchise holder for the Commonwealth Games and Commonwealth sport movement in Canada. CSC supports Canada's athletes to achieve excellence at Olympic and Paralympic Games and world championships, enriches the lives of youth across the Commonwealth and hosts the Commonwealth Games. For additional information go to: www.commonwealthsport.ca.
ABOUT CSC'S SPORTWORKS PROGRAM
As part of CSC's integrated sport for development (S4D) and sport development programming which began in 1993, SportWORKS was introduced in 2001, as an initiative which sends Canadian sport leaders into developing Commonwealth countries on up to one-year placements to design and deliver sustainable sport-related programs. Since the program's inception CSC has sent over 225 Canadian SportWORKS Officers to 30 developing Commonwealth nations and territories to assist organizations to deliver sustainable social and economic impacts through sport via 120 programs. Visit www.commonwealthgames.ca/sportworks/programs.html for more information.
ABOUT QUEEN ELIZABETH SCHOLARS PROGRAM
The Queen Elizabeth Scholars program aims to activate a dynamic community of young global leaders across Canada and the Commonwealth to create lasting impacts both at home and abroad through cross-cultural exchanges encompassing international education, discovery and inquiry, and professional experiences. This collaborative initiative is made possible through the leadership of the Rideau Hall Foundation, in collaboration with Community Foundations of Canada, Universities Canada and Canadian universities. Visit www.queenelizabethscholars.ca for more information.
-30-