Commonwealth Sport Canada's "Sport for Newcomers" Initiative Expands to Calgary and Hamilton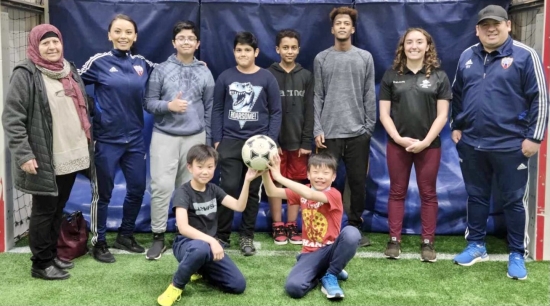 Providing Sport Opportunities For Newcomer Youth Began in Toronto and Edmonton
OTTAWA – A key part of Commonwealth Sport Canada's (CSC) Mission is to "enhance the lives of youth across the Commonwealth". The organization is proud to have been one of the world's pioneers of international sport for development for over a quarter-century, leading more than 125 local sport projects impacting in excess of two million youth in over 30 nations and territories.
In the fall of 2019, CSC shifted its sport for development focus to include Canada, with the launch of the SportWORKS Sport For Newcomers Initiative. The initiative introduced two pilot projects, with the CSC partnering with local Newcomer Support Services Organizations (NSSOs) - Action for Healthy communities (AHC) in Edmonton and the Jane Finch Community & Family Centre in Toronto. Led by SportWORKS Officers, the pilot projects offered newcomer youth quality sport activities that recognized their unique cultural needs while reducing or eliminating barriers and providing skill-appropriate sport. During the pilot projects over 200 newcomer youth participate in 52 sport activities (sport clinics, workshops, etc.). In addition to the sport activities, 25 tools & resources were developed for participants and NSSOs for ongoing use, as well, 16 partnerships with local sport clubs were established.
Following the success of these two pilot projects, CSC decided to expand to the cities of Calgary and Hamilton. Newcomer girl and mother focus groups were held at the onset of the projects to ensure that sport programming opportunities were informed by and met the needs of the newcomer participants, especially those with added intersecting barriers to participation. As a result of these consultations, it was agreed that physical activity and sport is looked at as a positive endeavour with the potential to not only improve sport skills and physical health, but also to build self-esteem and confidence, provide education, improve mental health, overcome cultural differences and racism and create strong, lasting friendships. Participants recommended girls-only programs, held in a safe and friendly environment, with instructions/coaching (if possible in their own language), snacks, physical distancing and the provision of private change facilities and prayer rooms.
With covid restrictions lifting the Calgary Sport for Newcomers pilot project started in early 2022 with a "Try Badminton Day", which included expert level coaching and featured a "Newcomer girls only" session as part of its programming. Many of the parents involved in the program were excited to be introduced to the badminton centre, as well as thankful for the opportunity for their children to play a sport. Starting in mid-March there will be a full week of sport activities where newcomer youth can try a new sport or physical activity every day. It will include sessions in volleyball, basketball, soccer, and badminton. Parents have already said how much they are looking forward to this opportunity, which includes a mixed gender week followed by a girls-only session.
In Hamilton, CSC is partnering with YMCA Hamilton/Burlington/Brantford, with a focus on promoting and encouraging girls to come out and participate in a variety of sports. There is much interest, with the girls having expressed a need to learn more about a variety of sports, such as soccer, volleyball, badminton and basketball. Soccer was selected as the first activity with the primary objective being the ability to develop skills and overall confidence. Some participants have already expressed interest in joining local leagues this upcoming summer. Next up will be the sport of volleyball, delivered in partnership with the Ontario Volleyball Association.
"CSC is a leader when it comes to delivering positive social development through sport," said Richard Powers, CSC President. "Our SportWORKS projects have impacted the lives of millions and transformed communities around the world. This model that we have used successfully for a quarter-century is now being implemented in Canada and we are proud to be launching in two new cities, Hamilton and Calgary. We know that Newcomer youth and their families in both cities will benefit from the social and health impacts of participating in these sport activities."
The Sport for Newcomers Initiative is part of CSC's SportWORKS Program, which sends Canadian sport leaders to host organizations in Canada and throughout the Commonwealth to deliver sustainable sport programs and build sport system capacity. SportWORKS prides itself on "Making a Difference and Becoming Different." The Sport for Newcomers Initiative aims to not only assist the host organizations and Newcomers, but also to make a difference in the lives and careers of SportWORKS Officers. The initiative is created and funded by Commonwealth Sport Canada with financial support from Sport Canada, The Commonwealth Sport Foundation, and Canadian Women and Sport.
For more information:
Commonwealth Sport Canada
Ryan Pelley
SportWORKS Program Manager
613.244.6868
ryan.pelley@commonwealthsport.ca
ABOUT COMMONWEALTH SPORT CANADA
Commonwealth Sport Canada (CSC) is the franchise holder for the Commonwealth Games and Commonwealth sport movement in Canada. CSC supports Canada's athletes to achieve excellence at Olympic and Paralympic Games and world championships, enriches the lives of youth across the Commonwealth and hosts the Commonwealth Games. For additional information go to: www.commonwealthsport.ca.
-30-