Commonwealth Sport Canada Receives New Funding to Improve Inclusivity in Sport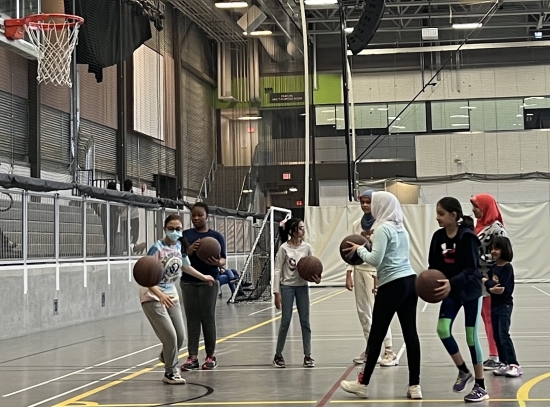 Funding was received as part of Sport Canada's Community Sport for All Initiative
OTTAWA - (2022 - 11 - 08) - Commonwealth Sport Canada (CSC) is pleased to announce new funding from Canadian Heritage and Sport Canada for the CSC SportWORKS program, supporting the CSC mission to "enhance the lives of youth across the Commonwealth."
As much as $80 million over two years is to be distributed across the country via Sport Canada's Community Sport for All initiative (CSAI). The CSAI component of the Sport Support Program seeks to remove barriers and increase sport participation rates for underrepresented groups. Its key objective is to support community sport initiatives for equity-deserving groups, in particular, Black, Indigenous, racialized, 2SLGBTQQIA+, low income and Newcomers to increase participation and retention in sport. The CSAI funding is directed at applicant organizations to administer and disburse project funding to community organizations to deliver community sport initiatives which contribute to and align with the objectives of the Sport Support Program.
As one of the supported organizations, funding will be used for CSC's SportWORKS initiative: Sport for Newcomers to reduce barriers to sport participation for Newcomers to Canada. Funding will be distributed to community organizations throughout Canada, including the PEI Association for Newcomers (Charlottetown, PEI), YMCA HBB (Hamilton, ON), Action for Healthy Communities (Edmonton, AB), Centre for Newcomers (Calgary, AB) and DIVERSEcity (Surrey, BC).
"This new funding will provide Newcomers with access to different activities and help them find their own love for sports," said Richard Powers, CSC President. "We believe in the power of sport and its ability to transform lives and know that Newcomers to Canada will benefit from the social and health impacts of participating in sport."
Through the generous support of the Government of Canada and other donors, for 30 years, CSC has integrated sport development and sport for development programming to promote individual and community social development, and build national sport system capacity, throughout the Commonwealth. Since that time CSC has led over 125 local sport projects that have impacted more than two million youth in over 30 nations and territories. These initiatives focus on empowering women and girls, promoting gender equity, youth leadership development, HIV/AIDS awareness and prevention, and building of sport capacity.
"Sport, physical activity and recreation are catalysts to healthier lifestyle, happier people and better-connected communities," said Adam van Koeverden, Parliamentary Secretary to the Minister of Health and to the Minister of Sport. "Opportunities to play, move and learn new activities should be available for all. We are committed to supporting initiatives that will help us realize our goal of a more inclusive Canadian sport system that benefits everyone."
"This funding reinforces our commitment to building stronger and healthier communities", said the Honourable Pascale St-Onge, Minister of Sport and Minister responsible for the Economic Development Agency of Canada for the Regions of Quebec. "Sport plays an important role in building self-esteem and leadership skills, which allow people to grow and thrive physically, emotionally and socially. It should be accessible to everyone and become fundamental for our children, who all deserve the opportunity to participate in sport and physical activity."
For reference to the release issued by Canadian Heritage, visit: https://www.canada.ca/en/canadian-heritage/news/2022/10/parliamentary-secretary-adam-van-koeverden-announces-new-funding-to-remove-barriers-and-improve-inclusivity-in-canadian-sport.html
ABOUT THE SPORT FOR NEWCOMERS INITIATIVE
The Sport for Newcomers initiative is part of CSC's SportWORKS program, which sends Canadian sport leaders to host organizations in Canada and throughout the Commonwealth to deliver sustainable sport programs and build sport system capacity. SportWORKS prides itself on "Making a Difference and Becoming Different." The Sport for Newcomers initiative aims to not only assist the host organizations and Newcomers, but also to make a difference in the lives and careers of SportWORKS Officers. CSC wishes to recognize the support and funding of Sport Canada and the Department of Canadian Heritage for the Sport for Newcomers initiative.
ABOUT COMMONWEALTH SPORT CANADA
Commonwealth Sport Canada (CSC) is the franchise holder for the Commonwealth Games and the Commonwealth sport movement in Canada. CSC is an active, contributing member of the Canadian sport community and supports Canada's athletes to achieve excellence at Olympic, Paralympic Games, and world championships. The mission of CSC is to enrich the lives of youth across the Commonwealth and host the Commonwealth Games. For additional information go to: www.commonwealthsport.ca.
-30-
For more information, please contact:
Ryan Pelley
SportWORKS Program Manager - Commonwealth Sport Canada
Email: ryan.pelley@commonwealthsport.ca
613 244 6868