Commonwealth Games Weightlifting Team Eyes Multiple Medals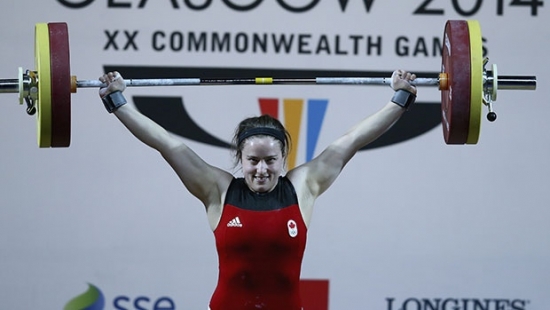 April 2, 2018 - With the balance of the Canadian Weightlifting team for the 2018 Commonwealth Games arriving in Gold Coast today, the hopeful team of 11 athletes now gets to work on earning multiple anticipated medals in top-level competition.
Canada finished fourth at the 2014 Commonwealth Games in Glasgow Scotland with two gold and two bronze medals won. One of the gold-medals in weightlifting from Glasgow was won by Marie-Eve Beauchemin-Nadeau who out lifted Mary Opeloge of Samoa and Apolonia Vaivai of Fiji to claim the gold. After training today, the 2014 Commonwealth Games Champion remarked on the comparison between the 2014 competition and 2018.
"There are always surprises with new countries or entries at the Commonwealth Games who you haven't seen at worlds," said Beauchemin-Nadeau. "It is always curious to meet new lifters within the competition mix." The 2016 Olympian had managed a return to the games to win gold, after a silver medal at the 2010 Commonwealth Games in Delhi. The Commonwealth Games defending champion at 75 kg is very clear about her goals at her third Commonwealth Games.
"My body is feeling great, better than it has in a long time," said Beauchemin-Nadeau. "My plan is to be prepared for anything but have a plan to modify and adapt. I have seen the competitors and I know it is going to be a great competition."
On the men's side, looking for another Commonwealth Games medal is 2010 Commonwealth Games lifter Mathieu Marineau (85kg) and returning to to the games is 2014 Commonwealth Games athlete Nicolas Vachon (77kg).
With a mix of veteran and first-time Commonwealth Games athletes and strong Canadian support, Canada is looking to surpass medals won in Glasgow. Weightlifting Team Leader Paul Barrett spoke confidently about the opportunities here in Australia.
"The Commonwealth Games are important to our team as they provide a high-level of competition on an even playing field," says Weightlifting Team Leader Paul Barrett. "We are going for medals here in Gold Coast and we are going for gold for at least half of them."
Complete Canadian entries for the 2018 Commonwealth Games include:
Women Men
48 kg Amanda Braddock (Brampton, ON) 77 kg Nicolas Vachon (Saint-Jérôme, QC)
53 kg Rachel Leblanc-Bazinet (St-Bruno-de-Montarville, QC) 85 kg Mathieu Marineau (Saint-Jérôme, QC)
58 kg Tali Darsigny (Saint Hyacinthe, QC) 94 kg Boady Santavy (Sarnia, ON)
63 kg Maude Charron (Rimouski, QC) 105 kg Ryan Meidl (Calgary, AB)
69 kg Andréanne Messier (La Présentation, QC) Over 105 Miklos Bencsik (Kelowna, B.C.)
75 kg - Marie-Ève Beauchemin-Nadeau (Montréal, QC)
The Gold Coast weightlifting competition starts for Canada Thursday April 5th with the women's 48 kg event.
Patrick Kenny
0481742861