Commonwealth Badminton Team Inspired as Individual Tournament Begins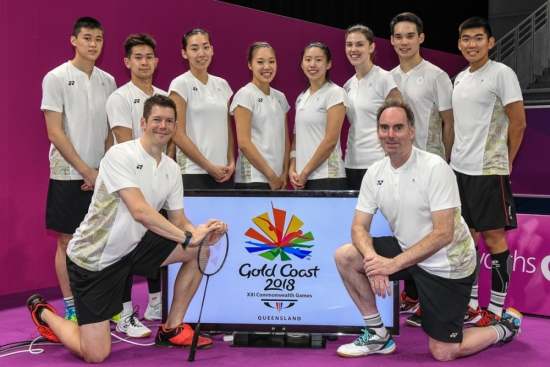 Gold Coast, Aus. (April 10, 2018) – With badminton team competition having completed at the Gold Coast Commonwealth Games, the team is now looking to build off of the team competition learnings and perform for the women's and men's singles and doubles events.
In an impressive 2018 Commonwealth Games showdown, India won gold in the mixed team event with a 3-1 victory over Malaysia at Carrara Sports and Leisure Centre on Monday 9 April. England defeated Singapore 3-0 to take the bronze and Canada finished 5th along with Australia, Mauritus and Scotland.
Starting the new round of 64 where he defeated Cory Fanus of Barbados 2-0, Brian Yang (Markham, ON) talked of how the team competition helped with his preparation.
"I was expecting to win, but all the competitors here are really strong, I was trying to attack first and keep the opponent under pressure to force more mistakes," said Yang. "I am focusing on competing my best and I can feel that the atmosphere in the team event was stronger, so now as I progress further in the rounds I know what to expect and know that the atmosphere will help me."
The eight-member team here in Gold Coast Australia includes Brittney Tam (Markham, ON), Kristen Tsai (Vancouver, BC), Rachel Honderich (Markham, ON), Jason Ho-Shue (Markham, ON), Brian Yang (Markham, ON), Nyl Yakura (Markham, ON), Ty Lindeman (Edmonton, AB) and the well-known 2014 Commonwealth Games Champion Michele Li (Markham, ON). With many expectations on the defending women's singles champion, Li is smartly focused on one game at a time, not on titles or ranking points and the learning process ahead of the Tokyo 2020 Olympics.
"I don't want to think too much about defending the title," said LI, who will compete also in the mixed team event and the mixed doubles with Brian Yang. "I just want to be able to play my game and perform well and if I can do that I will be happy whatever the outcome."
Li and Yang as well as Brittney Tam and Ty Lindeman each also confidently won their first day matches 2-0 over Seychelles and Guernsey respectively. Now focused on the individual portion of the tournament, Assistant National Coach Andrew Dabeka spoke of the 2018 experience so far.
"The team event allowed us to dominate some games and play some top-ranked opponents. We had team members excited to play that level of opponent." said Dabeka. "We worked to put the pressure on and also elevate our levels for the days to come."
Last to play for Canada on the first day of the individual tournament was men's doubles teammates Ty Lindeman and Brian Yang against Jamaica. Competition continues April 11th at the Carrara Sports Arena. For links to full continuing competition results and news visit http://www.commonwealthgames.ca.
Patrick Kenny
+61 0481742861