CGC partner Kicking AIDS Out marks 10th anniversary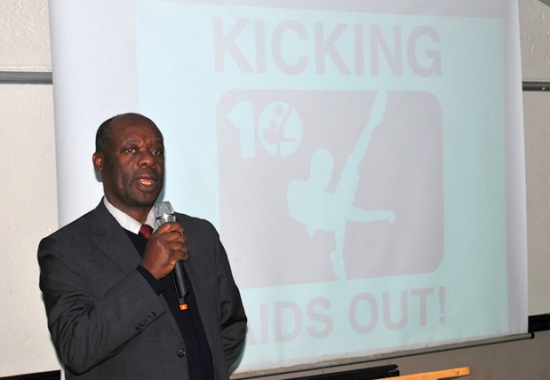 It's been a decade since 700 young people marched through Lusaka, Zambia in celebration of what was then a brand-new concept called Kicking AIDS Out (KAO). It was built around the idea of integrating sport, physical activity and traditional movement games with HIV and AIDS prevention and education.
At the time, a handful of organizations in Africa—including the Mathare Youth Sports Association (MYSA) in Kenya—were already using sport as a tool to disseminate information about HIV and AIDS. But KAO, which was conceived by Oscar Mwaanga, founder of the Edusport Foundation in Zambia, would take the concept global.
KAO, a Commonwealth Games Canada (CGC) regional partner, is celebrating its 10th anniversary this year. Since its inception in 2001, KAO has grown into an international network of funding partners, sport-for-development organizations, and national sport structures that stretches from North America and the Caribbean to Europe, Africa, Asia and Oceania. All are committed to using sport and physical activity to facilitate HIV and AIDS education and encourage young people to discuss issues affecting their lives and communities, with a strong emphasis on the development of life skills.
According to the KAO network's first-ever Monitoring & Evaluation (M&E) report, released this month, data from 11 of its member organizations (primarily in Africa) indicates that in 2010, almost 40,000 girls and young women and close to 62,000 boys and young men participated in weekly or bi-weekly sport activities tied to the KAO curriculum. In the coming years, KAO will continue to refine its M&E processes to track its members' organizational capacity, the quality of its sport programs (including female participation) and the development of life skills, such as HIV/AIDS knowledge.
At the core of KAO's success are trained youth leaders, who can engage their peers in games and activities, provide accurate health information, and create a safe environment for discussion of the many sensitive issues that surround HIV and AIDS. In 2009 and 2010 alone, more than 400 young men and women throughout Africa, the Caribbean and Asia were trained as Kicking AIDS Out Leaders.
Sharlene Wylie, a young KAO leader, presented to the Caribbean Community Secretariat (CARICOM) Health and Family Life Education Working Group Meeting earlier this summer as a youth representative. She described KAO and initiatives like it as "programs like no other. They foster capacity building among youth and encourage positive energy... I have learned how easy and effective it is to use everyday games to share knowledge on the ills that affect our society."
CGC joined the KAO network in 2002, and has provided strategic, programming and organizational support to the network and its members. Moreover, financial contributions have made it possible for young people to attend KAO training. The network focuses on supporting locally run initiatives by training youth leaders as KAO facilitators, so that the concept can be integrated into community sport-for-development programs.
Partners like CGC have also played a "huge" role in bringing new members into the KAO network, according to an historical overview marking the 10th anniversary. For example, the Trinidad & Tobago Alliance for Sport and Physical Education (TTASPE), a longtime CGC partner, officially joined the network in 2006. In 2010, CGC supported the opening of the first-ever KAO regional office within TTASPE, headed by KAO Regional Co-ordinator Shallona Shallowe. In addition to Trinidad & Tobago, KAO now operates in the Caribbean countries of Barbados, St. Vincent and the Grenadines, Guyana, Grenada, St. Lucia, St. Kitts and Nevis, and Jamaica.
"We'd like to congratulate Kicking AIDS Out for all the contributions it has made to sport for development over the last 10 years," says Carla Thachuk, Director of International Programs at Commonwealth Games Canada. "We look forward to working with the network as it continues to expand and evolve to the benefit of young people all over the world."
To help kick off its its 10th anniversary celebrations, KAO hosted a function during its Aug. 23-27 Annual General Meeting in Johannesburg, South Africa for ambassadors and representatives from the Department of Sport in South Africa, as well as representatives from all member organizations. KAO Network members in Zambia are also coordinating birthday festivities in November and December, culminating with Human Rights Day on the 16th of December. KAO is asking all of its partners and members to share any 10th anniversary plans so they can be included on the network's calendar at www.kickingaidsout.net
With files from www.kickingaidsout.net and www.ttaspe.org. To read Brenda Chipande's full historical overview of KAO, click here. To review KAO's first M&E report, click here.