CGC interns working behind the scenes in Isle of Man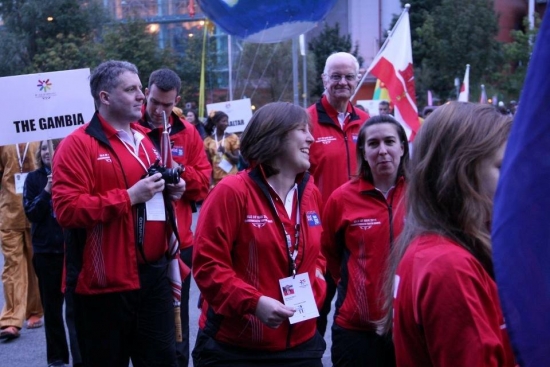 The IV Commonwealth Youth Games in Isle of Man have brought Montreal native Natalie Brett a little closer to achieving her dreams.
No, Brett isn't one of the top young athletes competing as part of Team Canada, but as one of three Commonwealth Games Canada (CGC) interns serving at the Games in various capacities, Isle of Man will be an invaluable experience. "It's an indescribable feeling to be attending the Youth Games," Brett says. "I aspire to a career working in international sporting events, and this experience—along with the NatWest Island Games I attended in June—is getting me one step closer to that dream."
Brett, who is part of CGC's innovative Capacity Support Program (CSP), is on a placement as a Capacity Support Officer (CSO) with the Falkland Island Overseas Games Association (FIOGA). In preparation for the Isle of Man Games, she has been in charge of administration, as well as the coordination of travel, accommodations, uniforms and accreditation for the Falklands' 12-person team. Brett's responsibilities during the Games will be to accompany the Chef of Mission to meetings, communicate results and daily updates, supervise the country's five athletes and coach the lone swimmer.
While Brett is attending the Isle of Man Games as part of her host country's team, fellow CSP interns Denise Yuen and Paddye Magill are part of the Results Management Team in Isle of Man. Yuen, who is working as a CSO with the Commonwealth Games Association of Sri Lanka, and Magill, who is in the midst of her second placement as a CSO with the Seychelles National Olympic Committee, will use their experience in the Games-management software Zeus to capture results for the 69 Commonwealth countries and territories competing in Isle of Man.
"I feel lucky to have this opportunity to attend the Youth Games and see these young athletes, who I'm sure will grow a great deal from this experience," says Yuen, who grew up in Coquitlam, B.C. "I'm also excited that I will get to see and use another aspect of Zeus. There is so much energy at any large sporting event. I'm looking forward to being a part of it!"
Magill, an Ottawa native who served as part of the Results Management Team during the 2010 Commonwealth Games in Delhi, is "grateful for the opportunity to do results again. It's exciting to know that many countries are accessing these results and relying on them—and not just for the purposes of these Games, but for their historical records as well." The experience capturing results in Delhi confirmed for Magill how well organized the Zeus system can be, and that it really makes a difference for the countries that are using it. "The Delhi Games last October also taught me patience," she adds, "which is always helpful in a hectic Games environment."
CGC's Capacity Support Program (CSP), which is now in its third year, is co-funded by the Commonwealth Games Federation and, this year, by the International Olympic Committee's Olympic Solidarity program. The CSP's goal is to augment the sport management capabilities of Commonwealth Games Associations and National Olympic Committees in developing countries. There are currently 15 talented young Canadians with sport administration backgrounds serving with these organizations throughout the Commonwealth—from the Caribbean and the Americas to Africa, Asia and Oceania. Their placements run until March 31, 2012.
-30-