CGC's first annual IDS Game of Life Run/Walk raises over $30,000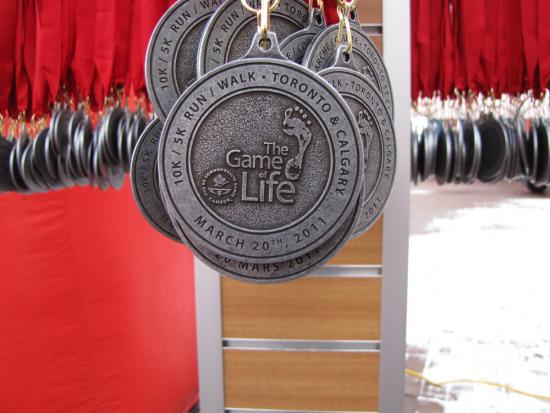 Commonwealth Games Canada (CGC)'s inaugural IDS Game of Life Run/Walk raised more than $30,000 in registration fees and donations for CGC's International Development through Sport Unit. Almost 800 runners and walkers of all ages took part in the March 20 awareness-raising event, which was held in Toronto and Calgary in partnership with The Running Room and Mizuno Canada.
John Stanton, founder of the Running Room and a CGC board member, was among those braving chilly weather in Calgary to hand out medals and share his thoughts with the crowd about the importance of CGC's sport development activities.
"As our group cheered at the finish line, it was a delight to see the participants running and walking through the ice and snow," said Stanton, whose company recently signed a multi-year partnership agreement to support the event. "Each one celebrated the moment never thinking of the tough weather conditions they'd just faced. The Game of Life Run/Walk is a metaphor for facing life's challenges in a fun yet professional way—which is one of the things International Development through Sport strives to teach people. This year's race provides a great platform on which to build a national event for IDS."
John Stacey, President of Mizuno Canada, joined Heather Moyse, Olympic champion bobsledder and former Commonwealth Games Canada intern, in celebrating the participants in Toronto.
"Mizuno Canada was proud to be associated with the inaugural Game of Life Run/Walk," said Stacey. "It was a tremendous accomplishment by the organizing committee to pull off this first-year event on the same day in both Toronto and Calgary. We look forward to supporting this event in the future as it grows across Canada and contributes to CGC's International Development through Sport initiatives."
Moyse, for her part, spoke to participants about her experiences as a Commonwealth Games Canada intern: "In October 2001, I went to Trinidad and Tobago as a Disability Sports Program Officer on behalf of CGC. One of the things I did was start a sports-leadership development camp called Camp ABLE (Active Bodies, Leadership, and Esteem) for teenagers who are deaf or hearing-impaired in the Caribbean," said Moyse. "I also started coaching and developing rugby for girls. Sport taught these young people skills for life, increasing their self-confidence and helping them see the possibilities for their future. This showed me the true power of sport; I haven't been the same since. That was the joy of being involved in the Game of Life Run/Walk: to see so many people participating in an activity they love while at the same time using sport to encourage positive change."
The Game of Life Run/Walk's volunteer organizers were primarily alumni from Commonwealth Games Canada's internship programs, who planned the event with the assistance of Running Room staff in each city.
Carla Thachuk, CGC's Director of International Programs, called the inaugural Game of Life Run/Walk "a great success," adding that it wouldn't have happened without the support and commitment of sponsors, volunteers, alumni, race directors and the Commonwealth Games Canada Board of Directors.
"I would like to thank everyone—and in particular, John Stanton and the Running Room—for helping to make this event a reality," Thachuk says. "It truly was a team effort, and we should all be very proud of the result. We can't wait to start planning for next year!"
Funds raised as a result of the event will help Commonwealth Games Canada continue its IDS efforts around the world. This includes supporting its partners in the Caribbean and Africa in delivering programs that use sport as a tool to encourage positive social change—programs like Kicking AIDS Out, which uses sport and traditional movement games to educate young people in Africa and the Caribbean about HIV and AIDS; and Go Sisters, a sport-focused platform that gives girls and young women in Zambia the opportunity to share their experiences, discover their talents and develop life skills—as well as internships like the Capacity Support Program, which sends young Canadians with sport administration backgrounds overseas to work with Commonwealth Games Associations and National Olympic Committees in developing countries throughout the Commonwealth.
CGC IDS hopes to expand the event to five cities next year. Anyone interested in volunteering for 2012 should contact Carla Thachuk at Carla@commonwealthgames.ca. For more information about CGC's IDS programming, please visit commonwealthgames.ca/ids.