Canadian Women Win Gold; Men Take Silver at Commonwealth Games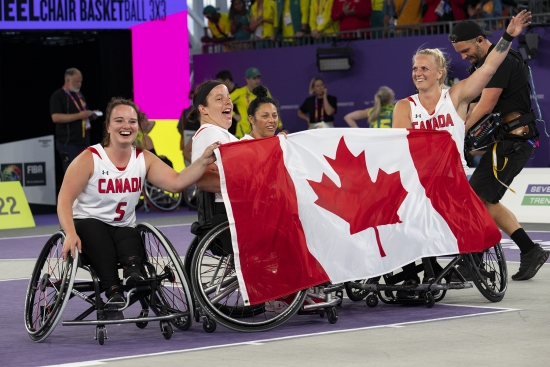 The Canadian Women became the first wheelchair basketball gold medalist in Commonwealth Games history, beating Australia 14-5 in Birmingham on Tuesday.
Kady Dandeneau had a game-high six points and 10 rebounds. Tamara Steeves added four points and two rebounds, while Élodie Tessier and Tara Llanes each chipped in two points in the victory.
"It's been a really good experience with the 3×3," said Tessier. "Honestly, I'm really proud of the girls, I'm really proud of how strong we came out here."
Canada used an early 4-0 run to pull away and finished shooting 13 of 23 while holding Australia to just 28 per cent shooting.
"It means a lot. It's the first time in Commonwealth Games history that wheelchair basketball has been involved. It's just incredible to win gold, and this squad that we have here is just incredible," Steeves said. "Coming off the Americas Cup qualifier, it was just amazing to keep playing basketball and to just win with this squad."
Full stats from the gold medal game can be found here.
The Canadian Men also leave Birmingham with hardware taking silver after dropping an 11-9 decision to Australia in the gold medal game.
Colin Higgins paced Canada with five points and five rebounds, Vincent Dallaire added three points and four rebounds, while Bo Hedges chipped in with one point and two rebounds.
Team Canada struggled, shooting just 9 of 21 from the field, and were out-rebounded 18-14 in the loss.
"Hats off to Australia, they played a great game, and they took advantage of our mishaps," said Higgins. "I didn't hit a couple of shots. It's a tough pill to swallow, but who knows; hopefully, we're back at the Commonwealth Games in four years."
It was the second meeting between the two countries at the Commonwealth Games – Australia topped Canada 13-11 in Pool Round play last Friday.
"It's such a tight game, 10-minutes, 3×3, there's nothing really I can pinpoint that we did wrong," Dallaire said. "The only disadvantage I think we had was having three players instead of four – that probably hurt us during the week, but other than that, it was a close game."
Complete stats from the men's gold medal game can be found here.