Canadian Beach Volleyball Team Named for 2022 Commonwealth Games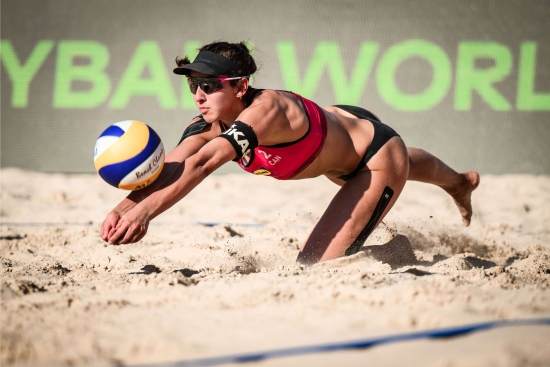 Four athletes selected to represent Canada
OTTAWA - (2022 - 06 - 24) - Commonwealth Sport Canada (CSC) and Volleyball Canada today announced the athletes who will represent Team Canada in beach volleyball at the 2022 Commonwealth Games in Birmingham, England taking place July 28 to August 8, 2022.
Four athletes from two teams (one per gender) make up this year's Commonwealth beach volleyball Canadian team, including the defending Games gold medalists Melissa Humana-Paredes and Sarah Pavan.
"I am really excited to return to compete in the Commonwealth Games, especially after having won the inaugural beach volleyball event in Gold Coast 2018," said Pavan, whose team went on to win the 2019 World Championship and finish fifth at the 2020 Olympic Games. "It is great that we will have the chance to defend our title and to represent Canada in such a fun and unique multi-sport games environment."
Humana-Paredes echoed her teammate's message: "The Commonwealth Games in Australia was such a blast and very well organized, so when we had the opportunity to go again this year to Birmingham, we were very excited. Multi-sport games like the Commonwealth Games are always a great opportunity to experience such a grand environment.... It gives us a chance to put work into practice, and we are looking to defend our title of course!"
The pair just recently won a gold medal on the Beach Pro Tour in Latvia and competed at the World Championship in Rome, where they finished fifth.
The men's team is Sam Schachter, who earned a silver at the 2018 Games with Sam Pedlow, and his new partner, Dan Dearing, who will be experiencing his first Commonwealth Games.
"I am thrilled to be returning to the Commonwealth Games. It was such an amazing experience and it is always an honour to represent Canada on the international stage at a multi-sport games," said Schachter. "There will be a lot of pressure having already won a medal at the Gold Coast Games, but this year we are looking to improve on the silver and compete to bring home the gold for Canada."
With such great results in 2018, Team Canada is excited to see Canada go for gold in 2022.
"The Canadian beach volleyball teams excel worldwide," says Scott Stevenson, Executive Director, Team Canada 2022. "We look forward to our teams again challenging for the top of the podium in Birmingham this summer."
These Games mark the second time that beach volleyball is included in the program. The Canadian men's team will be facing teams from Gambia, St Kitts & Nevis and Sri Lanka in pool A; and the women will go up against New Zealand, Kenya and Ghana also in pool A. The tournament will be held from July 28 to Aug. 8 at the Smithfield venue, which also host the basketball 3x3 competitions.
Birmingham 2022 will feature 19 sports and eight para-sports as part of its program with up to 4,500 athletes taking part. The Commonwealth Games are the only multi-sport event that feature equal standing for sport and para-sport events, and these 2022 Games will showcase the largest para-sport program ever. In addition, for the first time in its history, the Games will feature more medal events for women (135) than men (133).
The beach volleyball team which will represent Canada at the Birmingham 2022 includes:
Athletes:
| | | | | |
| --- | --- | --- | --- | --- |
| First | Last | Hometown | Event | Commonwealth Games |
| Samuel | Schachter | Richmond Hill, ON | Beach Volleyball | Silver medallist (2018) |
| Daniel | Dearing | Toronto, ON | Beach Volleyball | |
| Sarah | Pavan | Kitchener, ON | Beach Volleyball | Champion (2018) |
| Melissa | Humana-Paredes | Toronto, ON | Beach Volleyball | Champions (2018) |
Coaches:
| | | | |
| --- | --- | --- | --- |
| Position | First | Last | Hometown |
| Women's Coach | Srdjan | Veckov | Belgrade, Serbia |
| Men's Coach | Adam | Schulz | Hermosa Beach, CA |
ABOUT TEAM CANADA 2022
The 2022 Commonwealth Games will be host to 72 participating nations and territories taking part in the Games. The Commonwealth Games are a valuable opportunity as a steppingstone and development opportunity for Canadian athletes, coaches, and managers working towards Olympic and Paralympic success. Canada's performance projection in 2022 is a top 3 ranking, in total medals, amongst all nations and territories competing. Commonwealth athletes won 80%+ of Canada's medals at the 2020 Olympic Games
Team Canada's dedicated mission team will provide an optimal environment by celebrating equality, diversity, and non-discrimination. This is in support of our goals needed to enable a best ever performance by Canadian athletes at the 2022 Commonwealth Games.
ABOUT VOLLEYBALL CANADA
Volleyball Canada is the National Sport Organization for volleyball with more than 60,000 registered participants. Volleyball Canada fosters the growth and development of the sport in Canada, and oversees the national programs for indoor, beach and sitting volleyball.
ABOUT COMMONWEALTH SPORT CANADA
Commonwealth Sport Canada (CSC) is the franchise holder for the Commonwealth Games and the Commonwealth sport movement in Canada. CSC is an active, contributing member of the Canadian sport community and supports Canada's athletes to achieve excellence at Olympic, Paralympic Games, and world championships. The mission of CSC is to enrich the lives of youth across the Commonwealth and host the Commonwealth Games. CSC is responsible for all aspects of Canada's participation in the XXII Commonwealth Games and will be sending a team of almost 400 of Canada's best athletes and coaches to compete for Canada. The upcoming Games will occur in Birmingham, England from July 28 through to August 8, 2022. For additional information go to: www.commonwealthsport.ca.
-30-
For more information, please contact:
Jackie Skender
Team Canada Media Attaché – Beach Volleyball
jskender@volleyball.ca
613 794 7676
Patrick Kenny
Communications Team Leader – Team Canada 2022
Email: patrick@commonwealthsport.ca
613 724 7160