Canada's Derek Drouin earns high jump bronze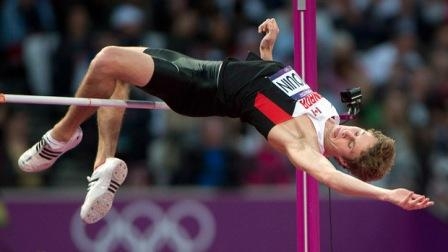 Tuesday, August 7, 2012 - Canada's Derek Drouin captured an Olympic bronze medal in the men's high jump event on Tuesday in London.
In one of the most unusual finishes, Drouin, of Corunna, Ont., will share the bronze with two other competitors — Mutaz Essa Barshim, from Qatar, and Great Britain's Robert Grabarz.
It was the first Olympic medal for Canada in the high jump event since Greg Joy won silver at the 1976 Games in Montreal.
Drouin, who had to wait to find out if he had secured a medal, clinched a podium spot with a jump on 2.29 metres.
Russia's Ivan Ukhov won the competition by clearing 2.38. American Erik Kynard earned the silver at 2.33.
Drouin wins Canada's 11th medal of the London Games, and the most surprising. While he won the Canadian championships in Calgary, Drouin had never competed at any world championships.
The 22-year-old almost didn't make the Olylmpic team for London after tearing three knee ligaments in 2011. The injury happened shortly after Drouin jumped a personal best 2.33 in an indoor meet.
He returned to compete in April before competing in two Diamond League events — London and Monaco — this summer, finishing third in both meets.
CBC Sports