Canada Wins Four Medals in Individual Gymnastics Finals on Day Four in Birmingham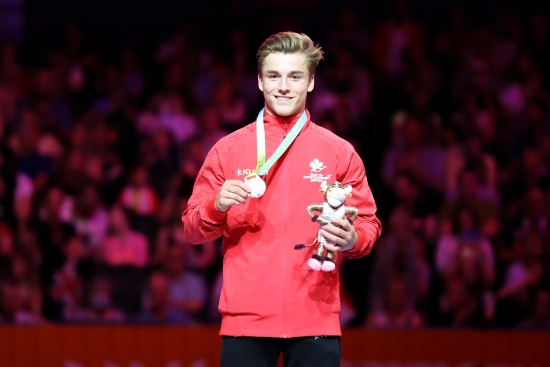 Aug 1 2022 - Hot off the heels of a silver medal win by the men's artistic gymnastics team and a bronze medal win for the 2022 Commonwealth Games artistic gymnastics women's team, Canadian entries shined on day one of the individual apparatus finals at the 2022 Commonwealth Games.
With a packed Arena Birmingham as the venue, Canadian entries in all finals looked strong throughout the day's session finals.
To start things off, Laval Quebec's Felix Dolci was the first to compete on the men's floor exercise. Dolci posted a score of 14.166 which kept him in first right up until the final two competitors. Having improved his total points score since qualifications, Dolci solidly won the silver medal.
"I didn't have my best performance in qualification and I totally knew that I could make the podium even with my qualification score," said the 2019 Junior World Champion on rings. "I knew my spot on the podium was waiting and that I just had to perform on the day, so I was confident."
When asked about the significant accomplishment, the 20-year-old spoke about feeling good about his effort and the result.
"Feeling really proud and happy to have a good result for our country and team. Silver is a really good accomplishment, obviously we are always striving for the gold, but my friend Jake did a brilliant performance, so he totally deserved the gold," said Dolci. "Really happy about today's result."
Following the medal ceremonies for the men's floor exercise competition, the men's pommel horse and women's vault competitions took place. For the Canadians, Kenji Tamane of Laval, QC, Jayson Rampersad (Oakville, ON), Laurie Denommee (Laval, QC) and 2022 Commonwealth Games all-around Bronze Medallist Emma Spense (Cambridge, ON) would compete.
On the vault, Laurie Denommee won the silver medal with a score of 13.233. Following the win Denommee spoke of the risks she took and about taking silver behind Georgia Godwin of Australia and ahead of Shannon Archer of Scotland who took bronze and Emma Spence who finished fourth.
"I am feeling very good. I am super happy because it is the first time I competed that vault in competition and I stuck the landing on both of my vaults," said Denommee. "I didn't know I was going to win a medal, so I am happy with gold, silver or bronze. Georgia Godwin is a great gymnast, and she deserves the gold. Tonight, I am going to celebrate and play ping pong in the village."
At the same time as the women's vault competition, Jayson Rampersad competed and won the bronze medal on the pommel horse, behind England's Joe Fraser who took gold and Rhys McClenaghan of Norther Ireland who took the silver.
Rampersad was thrilled with the medal that he won in front of family and friends in Birmingham and at home in Canada.
"I came here with the goal of getting a medal but I knew that the competition was tough, so it really wasn't something that I was expecting. But I was able to pull it off and perform at the best that I could and get a medal," said Rampersad.
"My mom and dad and sister are in the crowd and I want to give a special shout-out to them for cheering so loudly for me, I heard you and thanks to all my family and friends back home who were cheering for me. I appreciate you guys...your support means everything."
The last individual gymnastics final medal of day 4 was won by Chris Kaji. Kaji, who's strongest event is the rings, is the 2019, 2021 and 2022 Canadian Champion on Rings. Kaji won bronze with a score of 14.266 following Courtney Tulloch of England and Cyprus gymnast Sokratis Pilakouris of Cyprus who took silver.
Kaji spoke of being proud of himself but also of his fellow teammates.
"Feels amazing! Third is a great position to be. After all we have been through, I am really proud of my teammate Jayson who just won the bronze medal in the pommel horse final, so I am incredibly proud of him," said Kaji. "I was looking to do my best which is all you can ask. The only thing you can control is your performance and I am glad about the outcome."
For complete results visit the Birmingham 2022 site.