Canada Finds Podium Twice in Five Minutes at Athletics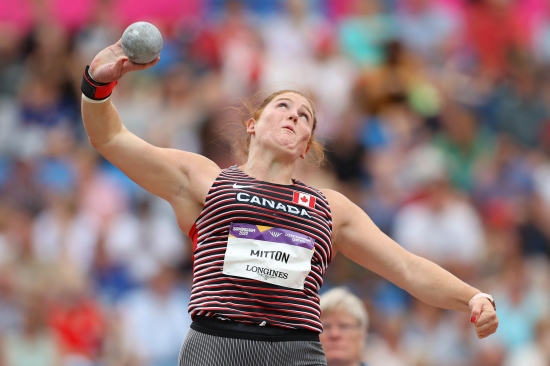 Aug 3, 2022 - Following a slow Tuesday that mostly consisted of qualifying rounds, several Canadians contested in Commonwealth finals on Wednesday, winning the country's first two athletics medals of the championship as the sun set on Alexander Stadium. Here are the few stories that characterized Day 3.
Mitton Wins Shot put, earns Canada its first athletics medal
Sarah Mitton stepped inside the shotput circle for her sixth and final toss. She sat in third, trailing Maddison-Lee Wesche of New Zealand and Danniel Thomas-Dodd of Jamaica. The bronze medal spot is a good placing to occupy, unless, like Mitton, the top-ranked athlete in the competition, you are a ringer for gold.
Barely five minutes after Mitton's gold-medal-winning toss, sprinter Zachary Gingras prepared for the T37-38 100m final. Better known as a 400m runner for his sixth-place finish at the Tokyo Paralympic Games, the speed-endurance specialist prepared for track and field's shortest sprint.
A solid start got him to run side by side with England's Shaun Burrows. The pair crossed the finish line third and fourth, but in such synchrony that Gingras was not sure who had the edge.
Three members of Canada's 4x400m team that finished fourth at the World Athletics Championships in Oregon pivoted to the individual 400m in Birmingham – so far with stellar results.