CANADA CLAIM THIRD SERIES CUP TITLE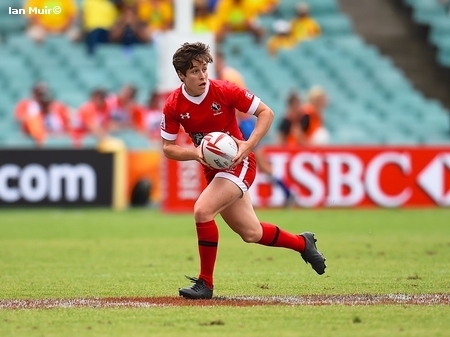 Canada's women's sevens team has won their third HSBC World Rugby Women's Sevens Series cup title after capturing the Sydney Sevens with a 21-17 win over USA.
It's Canada's second cup title in the least three series events. They previously won the cup title at the Clermont Sevens last May in the final stop of the 2015-2016 season and the Amsterdam Sevens during the 2014-15 season.
Canada improved to 3-4 all-time in series cup finals.
Canada entered Sydney in sixth place in the series standings through one event this season, but after earning 20 points with their first place finish, they jumped ahead of Fiji, England and Russia into third.
New Zealand stay atop the series standings after claiming the bronze medal in Sydney, while Australia remain in second place just two points up on Canada after finishing fourth.
Canada began day two action with a 26-5 win over Russia in the cup quarterfinals then followed that up with a 12-7 victory over host Australia.
The next stop in the series is the Las Vegas Sevens in early March.
What head coach John Tait said:
"Really pleased for the team to grind out some tough games today. We didn't play well against New Zealand (on day one) and the team showed a lot of resilience and composure to get the three wins on day two. We were able to rotate the lineup over the two days and balance the workload across the 12 and in the heat and humidity of Sydney it made a difference for us."
"We played some great defence when it really counted, with everyone contributing. Thought Britt Benn and Hannah Darling really stood out and the whole group played smart. Although we weren't as connected on attack as we can be the team found ways to win and I'm really proud of the effort."
What captain Ghislaine Landry said:
"It was a 12 person effort. The defence over the last day has been building and it takes 12 people to win that and that's exactly what we did."
"We were pretty disappointed at the end of yesterday. Defence is going to win a tournament so we knew that building off of the Russia quarterfinal that that's what we wanted to focus on."
"We know what we're capable of. Every tournament we look to do that. Sometimes it doesn't go as planned but we're pretty happy with that and it's not a surprise to us."
CANADA 26-5 RUSSIA
(Starting seven: Britt Benn, Hannah Darling, Jen Kish, Ghislaine Landry, Kayla Moleschi, Ashley Steacy and Charity Williams)
After finishing a disappointing sixth place in Dubai at the opening stop of the 2016-17 HSBC World Rugby Women's Sevens Series, Canada advanced to the cup semifinals at the Sydney Sevens with a clinical 26-5 win over Russia.
Canada dominated possession from the opening kick-off, forcing the Russians to give up a five-metre scrum just seconds into the match after the Canadian defence pinned them inside their try zone.
The resulting five-metre scrum for the Canadians resulted in a Kayla Moleschi try and Canada never looked back.
Ghislaine Landry then hit the Russians on the counterattack, turning on the afterburners for her first try of the day to give Canada a 12-0 lead heading into the break.
Jen Kish and Bianca Farella hooked up for two pretty second half tries, with Kish doing most of the legwork and Farella adding the finishing touches on both occasions as Canada coasted to a big win.
CANADA 12-7 AUSTRALIA
(Starting seven: Britt Benn, Hannah Darling, Jen Kish, Ghislaine Landry, Kayla Moleschi, Ashley Steacy and Charity Williams)
No team had ever won on home soil in series history and Canada put in a performance to ensure that streak would continue.
Despite going down 7-0 early to the hosts, Canada responded immediately through Jen Kish to cut the Australian lead to 7-5.
There was little room for error, as the Olympic gold medalists and bronze medalists battled it out in front of a larger day two crowd at Allianz Stadium.
With pressure mounting on the hosts, Britt Benn scored a late first half try to give Canada a 12-7 lead at the break.
The Canadians held off the Australian attack for the entire second half, slowing the pace of the match while continuing to deliver timely tackles.
With head coach John Tait using four substitutions, the Canadians used fresh legs to grind out a scoreless second half, setting up a shot at a third cup title.
CANADA 21-17 USA
(Starting seven: Britt Benn, Hannah Darling, Jen Kish, Ghislaine Landry, Kayla Moleschi, Ashley Steacy and Charity Williams)
For the first time in HSBC World Rugby Women's Sevens Series history it was an all-North American final as Canada and USA took centre stage at the Sydney Sevens.
USA jumped out to a 7-0 lead before Britt Benn and Charity Williams added first half tries for Canada, giving them a 14-7 lead at half.
An unconverted try brought USA within two points early in the second half but a resilient Canadian side would respond through Bianca Farella, extending the Canadian lead to 21-12.
A late USA try made things interesting in final seconds, but Canada retained possession on the ensuing restart to claim their third cup title.
Canada's Sydney Sevens Training Camp Squad (Name, club, hometown):
Britt Benn – Guelph Redcoats (Napanee, ON)
Hannah Darling – Peterborough Pagans (Warsaw, ON)
Bianca Farella – Town of Mont Royal (Montreal, QC)
Julia Greenshields – Sarnia Saints (Sarnia, ON)
Jen Kish – Edmonton Rockers (Edmonton, AB)
Ghislaine Landry – Toronto Scottish (Toronto, ON)
Megan Lukan – Unattached (Barrie, ON)
Kayla Moleschi - Williams Lake Rustlers (Williams Lake, BC)
Breanne Nicholas – London St. Georges (Blenheim, ON)
Ashley Steacy – Lethbridge Rugby Club (Lethbridge, AB)
Natasha Watcham-Roy – Hull Volant (Gatineau, QC)
Charity Williams – Markham Irish (Toronto, ON)
Canada's Sydney Sevens Day 1 Schedule (Thursday, February 2nd):
Canada 26-5 France
Canada 39-5 Papua New Guinea
Canada 10-31 New Zealand
Canada's Sydney Sevens Day 2 Schedule (Friday, February 2nd):
Canada 26-5 Russia
Canada 12-7 Australia
Canada 21-17 USA