Caeli McKay Wins Bronze at 10m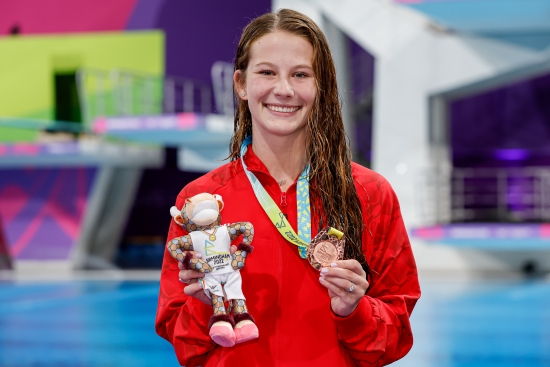 August 4th 2022 – Caeli McKay once again climbed the Commonwealth Games podium, this time in Birmingham, England. She won bronze in the women's 10m event Thursday.
Judges awarded the Calgary native a total of 317.50 points for her five dives.
"It's really amazing to be back on the podium of an individual event at a Major Games. I didn't win an individual medal at the last Commonwealth Games so this is a nice improvement for me", shared 23-year-old-McKay, who had ascended the podium in the women's 10m synchro event at the 2018 Games held in Gold Coast, Australia.
She felt the field at today's event was very strong and found the atmosphere genuinely impressive.
"It was an interesting day, a tough competition with high degree of difficulty dives. I had a bit of trouble dealing with the stress during prelims. I tried to deal with it differently during the final so that I could really enjoy the day and the event" added the diver who now calls Montreal home.
"There were tons of spectators, the stands were full. It felt very special. My family made the trip and I could see them up there. I could even hear them cheering me on before and after my dives", shared McKay.
Celina Toth finished 6th with 298.40 points. It was a return to the international stage for the 30-year-old who took an extended break following the Tokyo Olympics.
Toth, hailing from Victoria, BC, was disappointed in her performance but draws an important lesson for future seasons.
"I trained really hard even though my season was very short. I felt as nervous as at the Olympics. I never thought I would feel like that again. I think I need to establish a better game plan to help me calm down when I'm that nervous and use it in the future", said Toth.
She will now turn her focus to preparing for the 10m synchro event, in which she will partner with McKay.
« This will be my first experience in synchro at such a high level. Of course, I will be nervous but I hope that partnering with Caeli, who is more experienced, will help me calm down. It's funny because I feel like I am the veteran of this group but this will actually be a first for me", she shared.
Also competing in the event, Renée Batalla finished 13th with a score of 250.05 and did not advance to the final. Unfortunately for her, only the top 12 women advanced.
The 15-year-old BC native, the youngest member of Team Canada, was participating in her very first high level international senior meet.
Cedric Fofana and Bryden Hattie finish in the top 10 at 1m
England's Jack Laugher won gold with 447.05 points. His teammate, Jordan Houldan, took bronze with a score of 429.30, behind silver medalist Shixin Li from Australia (437.05).
This event was a great way for the Canadians to break the ice here in Birmingham, in preparation for their 3m springboard event later this week.
« Obviously, this is an experience I will not forget. I won't lie, I was pretty nervous. When I was diving in the preliminaries, I could barely breathe. Afterwards, I felt better and I was able to dive like I can dive in training", declared Fofana, from Montreal, QC.
Even though he was looking to execute his dives to perfection, Fofana really enjoyed his day in Birmingham.
« It was really great. It's a very special competition. Everybody talks to one another; the camaraderie is amazing. It's a great atmosphere. I am really fortunate to have lived this experience", Fofana added.
The event continues Friday with women's 1m springboard and the mens' 3m and 10m synchro events.
For complete results visit : https://results.birmingham2022.com/