Bronze medal for Canadian Renaud-Roy @ Judo Europe Cup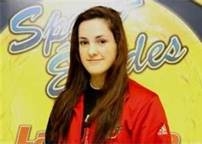 Montréal, September 23, 2012 – Alix Renaud-Roy climbed the podium with a third place finish in the under 70 kg category, Sunday, at the Europe Cup presented in Tampere, Finland, after winning two of the three bouts she took part in.
After receiving a bye into the second round of competition, Renaud-Roy beat the Russian Olga Pochkina with an ippon. The semifinals saw her take on the Russian Ekatarina Denisenkova in a fierce fight, where she eventually came up short.
In the bronze medal bout, she was able to defeat the Pole Karolina Talach by scoring a yuko. "It was one of the best results of my career, so obviously it was a great day for me, Renaud-Roy explained. The semifinal match was really tight, I did a good job of controlling the hand-to-hand battle, but with about a minute left I made a mistake and she took advantage by throwing me to ground for an ippon. It was another tough fight for bronze, but there I scored an yuko late on and then was able to hold on the rest of the way."