Bronze for Kaminski on Day 1 of Weightlifting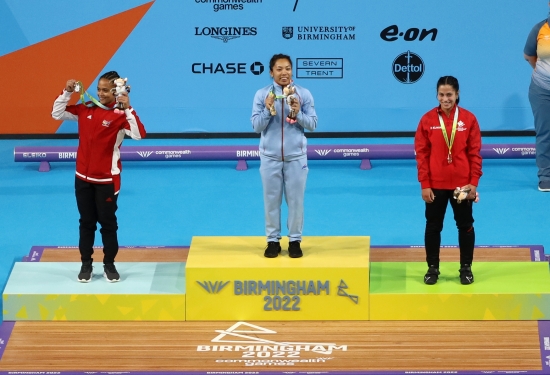 Hannah Kaminski has earned the first 2022 Commonwealth Games weightlifting medal for Canada, bronze at 49kg.
Weightlifting got underway on July 30th for Team Canada at the 2022 Birmingham Commonwealth Games, from the National Exhibition Centre. Three Canadians had sessions during the day which were highlighted by a bronze medal from Hannah Kaminski in the women's 49kg weight class.
Hannah Kaminski – Women's 49kg
Kaminski, who now resides in St-Hyacinthe, Quebec, had two successful lifts in the snatch session, with her best coming in at 74kg. That was good enough to sit fourth heading into the clean and jerk portion of the competition.
The clean and jerk proved to be an exiting finish. Kaminski was perfect on all three of her lifts, with her best being 97kg. That gave her a grand total of 171kg. She would have to sit through two more lifts by her competitors, but when they failed to equal her mark, she was awarded the bronze medal.
"I can't find the words. I came into the competition knowing that if I did what I have been doing in training, I would be in contention for a medal, but I still haven't wrapped my brain around the fact that I did it. It has really lit a fire under me to get back to training and keep doing what I have been doing," explained Kaminski.
"I feel like I left kilos out there on the snatch, which is usually my stronger lift, but my coaches did a good job of helping redirect me in the clean and jerk. I am really proud of my clean and jerk, that was a huge personal best for me (improving by 6kg)." she added.
Youri Simard – Men's 61kg
St-Hyacinthe's Youri Simard was the first Canadian to compete at the Games. Simard, the youngest entrant in his weight class at just 21 years of age, began with a successful snatch session. Simard had three successful lifts with his best coming in at 119kg. After the snatch competition, he sat third overall.
Simard repeated his perfect performance in the clean and jerk session, finishing with a top lift of 149kg. That brought his total score to 268kg, but it was 1kg shy of the podium, and he finished in fourth place.
Still, Simard improved his total personal best by 12kg at the Games. Afterwards, he was pleased with his performance. "I am really happy. This is something (six successful lifts) that you always want to happen in big competitions. I was hoping to lift a little bit more, but I am still very happy," said Simard.
Rachel Leblanc-Bazinet – Women's 55kg
Day one concluded with Rachel Leblanc-Bazinet competing in the women's 55kg weight class. Leblanc-Bazinet, who resides in St-Hyacinthe, got off to a good start with three successful lifts in the snatch competition. Her best was 82kg, good enough for fourth place with the clean and jerk to come.
In the clean and jerk, Leblanc-Bazinet got off to a good start with a first lift of 96kg. However, she was unable to improve on it and finished with a total of 178, good enough for fourth place.
"I am quite happy to be honest. I did well on the snatch," said Leblanc-Bazinet. "The last year has been really hard, and I put everything I had into it. I could not ask for more, I just did what I had to do and am proud of myself."
Canada is back in action tomorrow with the brother-sister duo of Shad and Tali Darsigny competing. Tali will take part in the afternoon session, beginning at 2 p.m. local time, while Shad will take part in the evening session beginning at 6:30 p.m. For more information on the weightlifting competition, visit the event site.