Birmingham Commonwealth Games Medals Revealed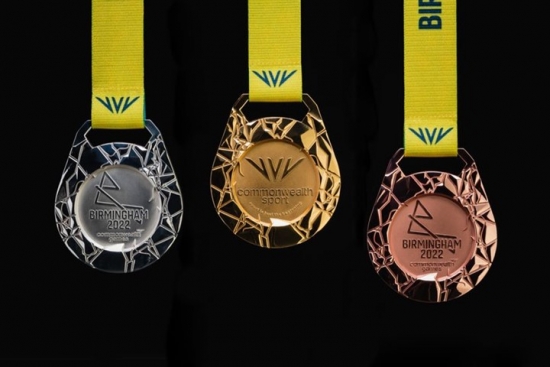 The Birmingham organizing committee has revealed the official medals for the 2022 Commonwealth Games.
This year, Birmingham is all about womanpower. At these Games this summer, there will be more medal events for women for the first time in the history of the Commonwealth Games. To celebrate this, the medals for this summer's Games have been designed by an all-female team. A group of students led by Amber Alys, Francesca Wilcox and Catarina Rodrigues Caeiro were part of the winning team for the contest held by the School of Jewellery and the Birmingham 2022 team.
The three designers designed the medals to portray the connection between all athletes and the journey they go through to achieve their dreams. The medal design also includes an aerial map of the host region's road and famous canal network.
"We really thought about the athletes when designing the medals - the connection between athletes and the journey they go on to achieve their dream of standing on top of the podium," says designer Amber Alys.
There are high hopes among the Canadian team that Canada will be winning many of the precious medals this summer. Co-Chefs the Mission, Claire Carver- Dias and Sam Effah shared their thoughts on the medal design and the meaning of the medals.
"They'll certainly be given top billing on the walls of the athletes, as they are symbolic of all the effort and grit that went into achieving them," said Claire Carver-Dias. "They are works of art."
"I love how detailed the medal features are and how they incorporate the road and canal network into the design," added Sam Effah. This will give Canadian athletes a personalized feel from Birmingham, long after the games have concluded."
Toye, Kenning and Spencer, a family-owned Birmingham-based Jewellery Quarter business, have been chosen as the medal fabricators. Their location is actually included along the Birmingham 2022 marathon route and is close to one of the key venues, Arena Birmingham.
"Helping Amber, Catarina, and Francesca bring their designs to life has been such a rewarding experience for us. They are very different to other medals as they are not the traditional shape, so that was challenging for us, but I think together we have created something which is truly special." Explains Charles Toye, Chief Executive of the family business.