BADMINTON CANADA NOMINATES EIGHT ATHLETES TO THE GLASGOW 2014 CANADIAN TEAM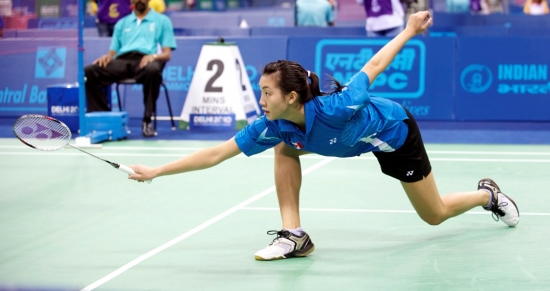 Michelle Li ranked 4th in women's singles amongst Commonwealth nations

May 8, 2014, Ottawa – Badminton Canada and Commonwealth Games Canada (CGC) today confirmed the athletes and coaches to be named to Team Canada for the XXth Commonwealth Games in Glasgow Scotland in July.
The 2014 Canadian Commonwealth Games badminton team is led by three Olympians from the 2012 London Games; Toby Ng, Michelle Li and Alex Bruce. Bruce and Li became the Canadian sweethearts at the London Games with their unexpected appearance in the women's semifinal after eight female badminton players were expelled from the Olympic Games doubles competition for conduct detrimental to the sport. Other players to watch are 18 year old high school student Rachel Honderich as well as the men's double pair of Derrick Ng (brother of Toby Ng) and Adrian Lui.
"The doubles team of Michelle Li and Alex Bruce kept us on the edges of our seats during the London 2012 Olympic Games", said Chantal Peticlerc, Canada's Chef de Mission at the Glasgow 2014 Commonwealth Games. "We certainly expect the same level of excitement from our badminton team at the Glasgow 2014 Games this summer, and I am pleased to welcome the members just named by Badminton Canada to our 2014 Team!"
"We believe that a podium finish is within our reach", said Ram Nayyar, High Performance Director of Badminton Canada. "Our Commonwealth team is composed of both seasoned veterans as well as some athletes who will make their first Games appearance. This is an outstanding opportunity for them to compete against the best in the world."
Athletes and coaches nominated by Badminton Canada to Team Canada for the 2014 Commonwealth Games were selected on Friday, May 2nd at the Vancouver Badminton, Lawn and Tennis Club. They include:
1. Michelle Li – Women's Singles (team and individual event), Markham ON
2. Andrew D'Souza –Men's Singles (team and individual event), Ottawa ON
3. Alex Bruce/Phyllis Chan – Women's Doubles (team and individual event) Toronto ON/
Vancouver BC
4. Derrick Ng/Adrian Liu – Men's Doubles (team and individual event) Richmond BC/
Richmond BC
5. Toby Ng/Alex Bruce – Mixed Doubles (team and individual event) Richmond BC/Toronto ON
6. Rachel Honderich – (multiple team events and women's singles in the individual event)
Toronto ON
7. Team Leader/Head Coach – Ram Nayyar Vancouver BC
8. Coach – Jeff White Calgary AB
9. Physiotherapist – Marc Rizzardo Vancouver BC
A team of 265 athletes and close to 100 coaches and support staff will be in Glasgow, Canada's largest Team ever fielded for a non-home Games. The entire Canadian Team, as well as the team's flag bearer will be officially announced by Commonwealth Games approximately one month before the Games.
The Glasgow 2014 Commonwealth Games will be held from July 23rd to August 3rd, 2014, and will be the largest ever multi-sport event held on Scottish soil.
ABOUT BADMINTON CANADA
Badminton Canada's mission is to be an innovative and highly respected sports organization that is the leader in contributing to badminton becoming the most successful racquet sport in Canada and the world by enabling Canadian Athletes, Coaches and Officials of all ages, cultural background and skill level the opportunity to excel in badminton and in life. Visit www.badminton.cafor information.
ABOUT COMMONWEALTH GAMES CANADA
Commonwealth Games Canada (CGC) is the international franchise holder for the Commonwealth Games and Commonwealth movement in Canada, and an active, contributing member of the Canadian sport community. The mission of CGC is to strengthen sport within Canada and throughout the Commonwealth by participating in the Commonwealth Games and by using sport as a development tool. Visit www.commonwealthgames.ca for information.
-30-
For interview requests:
Joe Morissette
Executive Director
Badminton Canada
613 569 2424 ext 101
morissette@badminton.ca
For additional information on the Glasgow 2014 Canadian Team or CGC:
Sylvie Bigras
Communications Chief
Team Canada - Glasgow 2014
613 298 1625
sylvie@magma.ca