Alberta Community Builders to Explore Bringing 2030 Commonwealth Games to Province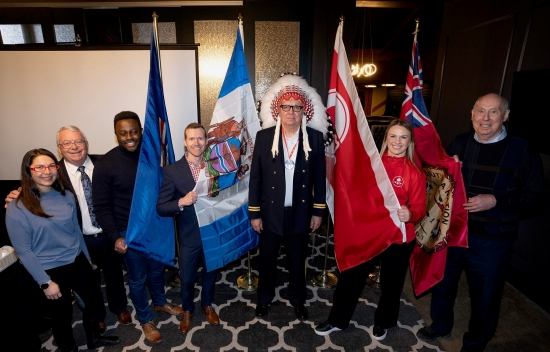 Alberta is provided the opportunity to bid for the 2030 Commonwealth Games
CALGARY/EDMONTON - March 8, 2023— A group of Alberta community builders have been working to explore the possibility of hosting the 2030 Commonwealth Games through a unique opportunity focused on strategic partnerships and cost sharing options.
These community leaders, including those from business, sport, culture and academia, have been collaborating over three years with potential partners, venue operators, technical experts, and community advocates to do the foundational work required to complete a feasibility assessment to bring the Commonwealth Games to communities throughout the province. Numerous discussions have been held with Commonwealth Sport Canada and the international Commonwealth Games Federation.
To date, this evaluation and planning has been funded entirely by community donations. All government partners will now invest in the project as it transitions into an official exploration phase.
The Commonwealth Games, often referred to as the Friendly Games, is a multi-sport and cultural event that takes place every four years, bringing together 74 Commonwealth nations and territories. The Games consist of 4,500 athletes, including para sport athletes, competing in 20 summer sport disciplines.
The Games would be held over 11 days in August, 2030 with competitions and cultural events shared between Calgary, Edmonton, Tsuut'ina Nation, the Bow Valley and other Alberta communities.
"Hosting a major multi-sport event like the Commonwealth Games is a rare opportunity for significant transformational development of a community, region and country," said Dr. Roger Jackson, who has served as President and CEO of the Alberta 2030 Commonwealth Games Corp (Alberta 2030).
"Our goal through this collaborative work is to build on Alberta's successful sporting legacy to host a very cost-effective Games that are reflective of the values of all Canadians and will improve the lives of our citizens by delivering widespread impacts on the economy, arts and culture, tourism, education, sport, volunteerism, new and renovated sport facilities and so much more."
Preliminary discussions have been had with all levels of government to engage them on the potential of bringing the Games back to Canada and its positive impacts.
"Alberta has a successful history of hosting major, multi-sport games. Sport brings us all together, and in the true spirt of Albertan hospitality, Alberta would welcome the 2030 Commonwealth Games with open arms," said The Honourable Jason Luan, Alberta Minister of Culture.
"Edmonton recognizes the importance of hosting major international events like this that not only bring people together to celebrate but leave a lasting economic impact on our city and help to support our global image," said City of Edmonton Mayor Amarjeet Sohi. "The City of Edmonton supports this collaborative effort to determine the feasibility of pursuing this joint bid for an inclusive, sustainable 2030 Commonwealth Games that will build on our city's successful sporting legacy."
"We support conducting a feasibility assessment to determine whether a joint Alberta bid to host the 2030 Commonwealth Games could see significant legacy infrastructure investments in both Calgary and Alberta's economy," said City of Calgary Mayor Jyoti Gondek. "Whenever we can pursue strategic partnerships and cost sharing options to generate investment and elevate civic pride, it's important to connect with Indigenous leaders, governments, and community partners, to explore those opportunities."
At the heart of the project is a commitment to the Truth and Reconciliation Calls to Action that will lay the foundation for transformative change for Indigenous communities while developing a Hosting Plan that is in line with existing long-term municipal and provincial plans and priorities.
"Tsuut'ina is pleased to lend our support to the exploration of a bid for the 2030 Commonwealth Games. Very few things bring people together like sports, and the opportunity for reconciliation would be historic. Not only is our sporting infrastructure strong, so is the talent behind this effort. We hope this bid will be positively received and we look forward to sharing hosting opportunities," said Chief Roy Whitney, Tsuut'ina Nation.
Commonwealth Sport Canada is the franchise holder for Commonwealth sport in Canada, including the awarding of preferred candidate cities interested in bidding to host future Games.
"Commonwealth Sport Canada is excited to support this group of leaders and their communities across Alberta in the exploration to bring the Commonwealth Games back to the country where it all began 100 years ago in Hamilton 1930," said Claire Carver-Dias, President, Commonwealth Sport Canada. "Canada last hosted the Commonwealth Games in Victoria 1994. It also hosted in Edmonton in 1978, and Vancouver 1954. It is our time once more to host the Commonwealth nations and territories. Alberta is a province known for hosting world class sporting events that put an emphasis on generating lasting legacies extending far beyond sport."
Community engagement and discussion with the public will be core to the operational process over the next five months. These conversations will help lay the groundwork for a more formal feasibility assessment and Hosting Plan.
All partners will decide whether Canada should pursue a formal Commonwealth Games Bid by August of this year. Bids are due to the Commonwealth Games Federation by August 31, 2023. The 74 members of the international Commonwealth Games Federation (London) will decide the host of the 2030 Games in November 2023.
About Alberta 2030 Commonwealth Games Corp.
Alberta 2030 is a federally incorporated, not-for-profit community-based organization. Its Board includes business, community, cultural, sport and academic leaders from Calgary, Edmonton, the Tsuut'ina Nation, and the Bow Valley.
About Commonwealth Sport Canada
Commonwealth Sport Canada (CSC) is responsible for organising participation in both the Commonwealth Games and Commonwealth Youth Games and is separate to the Canadian Olympic Committee. CSC is the only Canadian sport organisation that delivers both high performance sport programs in Canada and sport for development programs abroad. It leverages the transformative powers of sport to inspire and make a difference in countries around the world. Canada has hosted four Commonwealth Games and has built on these important contributions to Commonwealth sport as a Commonwealth leader in sport and development internationally.
FOR MORE INFORMATION:
Chris Dornan
Alberta 2030 Commonwealth Games Corp.
T: 403-620-8731