Table Tennis Underway for Team Canada at the 2022 Commonwealth Games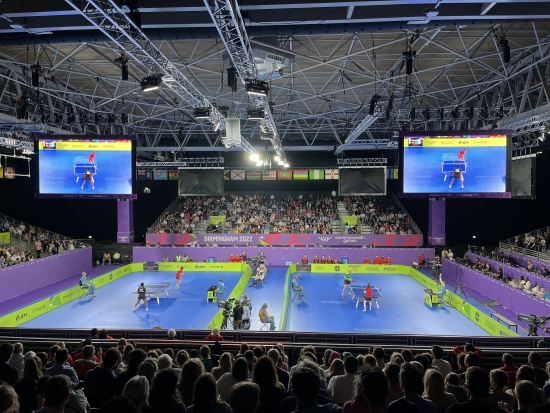 With many warm-up courts, many match courts two show courts, and the available seating close to filled, there is no doubt about the popularity of this racket sport where balls travel as fast as 100 mph.
Canada's table team athletes started competition yesterday at Birmingham's National Exhibition Centre. The team is comprised of 10 members which includes two ParaTT athletes that were selected from each of the six Commonwealth Games Federation (CGF) regions.
The women's team will be led by Mo Zhang from Richmond, BC who will be attending her fifth Commonwealth Games (2006, 2010, 2014, 2018, 2022). She'll be joined by top junior players Gina (Ching Nam) Fu of Toronto, and Katherine Morin of Drummondville, QC who finished first and second at the trials held in March. With a third-place finish at the trials, Sophie Gauthier from Repentigny, QC rounds out the women's team.
The men's team will be led by Eugene (Zhen) Wang from Aurora, ON who will be attending his third Commonwealth Games (2014, 2018, 2022). He'll be joined by Tokyo 2020 Olympian Jeremy Hazin of Richmond Hill, ON who will be making his Commonwealth Games debut, as will the other members of the men's team – Hongtao Chen of Toronto, and Edward Ly of Lachine, QC.
On the para side, Canada will be represented by multiple Canadian Champion Muhammed Mudassar (Wheelchair Class 3-5) and Brampton athlete Asad Hussain Syed (Standing Class 8-10).
Heading in to the first day of competition, the team members reflected on this opportunity and their hopes for the Games. Jeremy Hazin a NYU student works to balance university with Table Tennis to achieve his goals.
"Table Tennis has allowed me to travel the world, meet so many people from different places and make lifelong friends," said Hazin. "My goal is to win a medal, go as far as I can with my teammates and in mixed doubles, doubles, and singles event. I am working towards getting into the top 100 world ranking and competing in the 2023 Pan Am Games."
Players such as Sophie Gauthier will be experiencing her first big Games.
I'm looking forward to meeting other Canadian athletes and to compete with high level players in our sport," says the Repentigny, QC athlete.
Like Gautier, Katherine Morin is excited to experience a multi-sport game and having earned the opportunity.
"I couldn't wait to see the Games village, meet other athletes from Canada and see the competition venue," said Morin, who is working towards the 2028 Olympic team. "I'm really proud to have qualified and be on the team for the Commonwealth Games."
Table Tennis competition is underway at the 2022 Commonwealth Games and will run from July 29th to August 8th. In addition to Team Canada, all eyes will be on Singapore as they have dominated Table Tennis events since the sport was introduced at the Commonwealth Games. Medals are up for grabs in men's and women's singles and doubles, mixed doubles, men's and women's team events and para events.
CBC Sports will feature daily feeds of the sport competitions available on CBC Gem, cbcsports.ca and the CBC Sports app for iOS and Android devices. Check out https://www.cbc.ca/sports/commonwealthgames for details.
In addition, visit https://commonwealthsport.ca/ for news photos and videos of all the Team Canada action.