Summer McIntosh Triumphs Again to Highlight Four-Medal Day for Swimming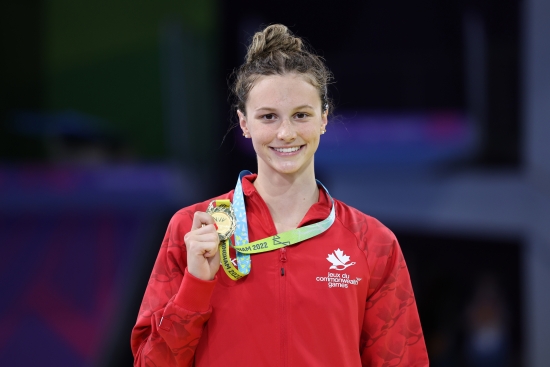 Summer McIntosh highlighted a four-medal day for Canada in swimming at the Commonwealth Games with another record-breaking performance in the women's 200-metre individual medley.
Along with a silver for Kylie Masse and bronze medals for Camille Bérubé and Javier Acevedo on Monday, Canadian swimmers have four gold, three silver and five bronze after four days. Canada has now bettered its gold medal count from four years ago in Australia in the pool.
The 15-year-old McIntosh of Swimming Canada's High Performance Centre - Ontario clocked a world junior record 2:08.70 for her second individual victory of the Games and fourth medal overall. Kaylee McKeown of Australia was second in 2:09.52 and Abbie Wood of England third in 2:10.68.
''I didn't know what to expect because the 200 IM is more of a sprinting event for me,'' said McIntosh, also the 400 IM winner Friday and world champion in the longer distance. ''I was happy with how I raced and my time. The only pressure I feel is what I put on myself. The only thing that matters is my expectations.''
Mary Sophie-Harvey, CAMO/Trois-Rivieres, Que., was sixth in 2:12.48.
Masse, HPC-Ontario/LaSalle, Ont., notched her second individual silver medal clocking 2:07.81 in the women's 200-m backstroke. As was the case in the 100 back Sunday, she was beaten by Australia's Kaylee McKeown first in 2:05.60. Katie Shanahan of Scotland took the bronze in 2:09.22.
''I always know Kaylee is going to put down a great race and I tried to stick to my race plan and do the best I could,'' said Masse, the defending champion in the event. ''I feel like I still have a lot to improve on. Just nailing the details of my race and focusing on myself. I can only control how I swim.''
Acevedo, Markham Aquatic Club/Toronto, won the bronze medal in the men's 50-m backstroke in 24.97, lowering his five-year-old Canadian record. Andrew Jeffcoat of New Zealand took the gold in 24.67 and Pieter Coetze of South Africa just nipped the Canadian at the finish for silver in 24.77.
''I'm so happy to finally break a barrier,'' said Acevedo. ''I've wanted to go a best time in this event for awhile. Winning a medal is just icing on the cake for me.''
Bérubé, a Para swimmer from Natation Gatineau, added a bronze in the women's SB6 100-m breaststroke in the final race of her career. The three-time Paralympian clocked a personal best 1:43.81. Danielle Kisser, CHP-Quebec/Delta, B.C. was fourth in 1:50.04.
''With the two girls from England in the race I could feed off the vibe,'' said Bérubé, a national team member since 2009 but competing at her first Commonwealth Games. ''To live that experience in my last race was absolutely incredible. It felt right to finish here at an inclusive Games and hopefully there will be more events like this.''
In the men's 100-m freestyle, Kyle Chalmers of Australia took the gold in 47.51 with Tom Dean of England second in 47.89 Duncan Scott of Scotland third in 48.27, Ruslan Gaziev of Etobicoke Swimming fourth in 48.54 and, Joshua Liendo (HPC-Ontario/Markham, Ont.) seventh in 48.66.
''I thought I could have got a medal,'' said Gaziev. ''The two guys beside me medalled so if I won that race between us… Four years ago at this meet I didn't even reach the semifinal so I've come a long way.''
Maggie Mac Neil, HPC-Ontario/London, Ont., posted another fourth-place finish in the women's 50-m butterfly in 26.17. Australian Emma McKeon won in 25.90 followed by Erin Gallagher of South Africa and Holly Barratt of Australia who tied for silver in 26.05. Katerine Savard, CAMO/Pont-Rouge, Que., was eighth in 26.43.
A few minutes after his 50 back race, Acevedo anchored Canada to fifth spot the men's 4x200-m freestyle relay final with Gaziev, Finlay Knox and Jeremy Bagshaw in 7:12.68. Australia won the gold in 7:04.96 followed by England in 7:07.50 and Scotland in 7:09.33. It was Canada's best time in the event since 2010, which bodes well for a return to the Olympic stage in 2024 after not qualifying for the past two Games.
''No matter how painful it was I knew it was going to be worth it,'' said Acevedo. ''This is a young team and we are going to start being proud of this 4x200. Tonight set the tone towards 2024 and 2028 (Olympics).''
It was also a two-swim night for Gaziev and Knox.
''None of us were really fresh going in,'' said Knox. ''And still we were able to get on top of our swims.''
In the semis, Liendo qualified fourth for the men's 100-m butterfly final clocking 51.85 in his second swim of the night. Finlay Knox, HPC-Ontario/Okotoks, Alta., also advanced ranking sixth in 52.19.
''The butterfly feels a lot better than freestyle right now,'' said Liendo. ''I'm excited about the final and shooting for a best time. With two swims tonight I knew I had to get the job done.''
Both Rebecca Smith, University of Calgary/Red Deer, Alta., and Savard advanced to the women's 100-m freestyle final ranking seventh and eighth in 55.03 and 55.41.
''I'm happy that I'm in,'' said Savard, a three-time Olympian. ''I don't have anything tomorrow morning so I can sleep in a bit after a couple of hard days.''
James Dergousoff CHENA/Christina Lake, B.C., ranked 11th in the 50-m breaststroke in a personal best 27.83.
''It's tough to miss the final but I've improved a lot this season'' said Dergousoff. ''Both my swims today were better than at worlds. It's been an incredible experience to be part of this team. I'm definitely going to remember these Games.''
U.S. based Sophie Angus ranked 11th in the women's 100-m breaststroke in 1:08.63.
In the morning preliminaries, Mabel Zavaros, (Markham Aquatic Club/Burlington, Ont.), and Katrina Bellio (Etobicoke Swim Club/Mississauga, Ont.), qualified fifth and eighth for the women's 800-m freestyle on Tuesday in 8:40.31 and 8:42.42.
''I was happy to get that first race under my belt,'' said Zavaros, who set a personal best time. ''I'm excited to move on. I always train with the distance group (at University of Florida), so I had that training in.''
''I felt super relaxed through the whole thing,'' said Bellio, who turned 18 today. ''I put myself in a really good position for the final and I think I can improve upon it.''