Maya Laylor Wins Canada's Second Gold Medal in Weightlifting; Kristel Ngarlem Takes Silver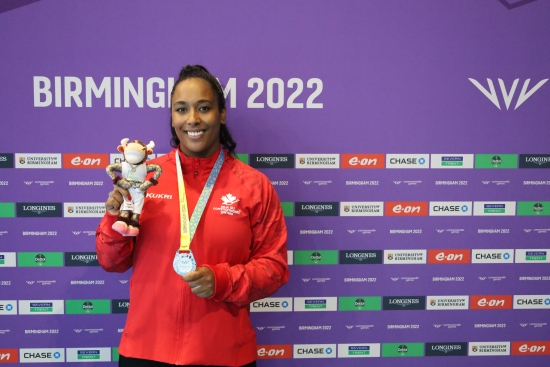 Aug 2, 2022 - The penultimate day of weightlifting, Aug. 2 at the National Exhibition Centre, featured a pair of Canadians looking to keep the medal haul going, as both Maya Laylor and Kristel Ngarlem were in action. The day started with Laylor capturing gold in the morning session before Ngarlem took silver in the evening.
Maya Laylor – 76kg
Laylor, from Toronto, was the final competitor to lift during the snatch competition, having set an opening number of 100kg. Laylor successfully lifted 100kg, then bumped to 105kg but was unsuccessful on attempt two and three. Still, she led by 2kg heading to the clean and jerk.
Once again, Laylor posted the highest starting number for the clean and jerk at 123kg. A successful lift would mean gold. She had no problem with 123kg and then improved on her total with a successful lift of 128kg on her second attempt. That gave her a total of 228kg, winning the gold medal by 12kg.
"Snatch is hit or miss, and I didn't quite have it, but I kept my focus for the clean and jerk. I said to myself I would come back with the clean and jerk. I opened with 123kg, that was a strong lift. Then at 128kg, I went for the Games record and then I just went for anything. I gave it my all today," explained Laylor. "I always put pressure on myself, but I was in attack mode today."
Kristel Ngarlem – 87kg
Ngarlem, from Montreal, got her chance during the evening session. She had competed at the 2014 Commonwealth Games but failed to win a medal, something she looked to change in Birmingham. She opened the snatch with a lift of 97kg, then improved to 101kg on her second, before missing her third at 103kg. Still, she sat third, midway through the competition.
In her first lift of the clean and jerk, Ngarlem successfully lifted 125kg, which put her in top spot for the time and secured a medal. After the competitor from Cameroon withdrew, it meant at least silver for Ngarlem. She would improve on her total with a successful 130kg second lift and 135kg third, but she was unable to catch Australian Eileen Cikamatana, and won the silver.
"I am super happy! I started with 97kg, just to be in the game in the snatch. After, I lifted 101kg, which was a personal best. When I missed the 103kg, I felt a little something in my shoulder, so I was a little worried about the clean and jerk, but it is my best movement. I started at 125kg, which was a little lower than my normal starting attempt, just to be sure everything was good. After I did it, I thought it might be good enough to win the silver, but I went up to 130kg, which is where I had been training, and then jumped to 135kg, which was another personal best. I am very happy with that lift, I worked and prepared to lift 135kg at the Commonwealth Games, so this was what I had in my head the whole time."
Weightlifting concludes tomorrow with three more Canadians in action: Pierre Alexandre Bessette, Emma Friesen and Quinn Everett. For complete weightlifting information visit the event site.