Kelsey Mitchell Wins Third Silver at Commonwealth Games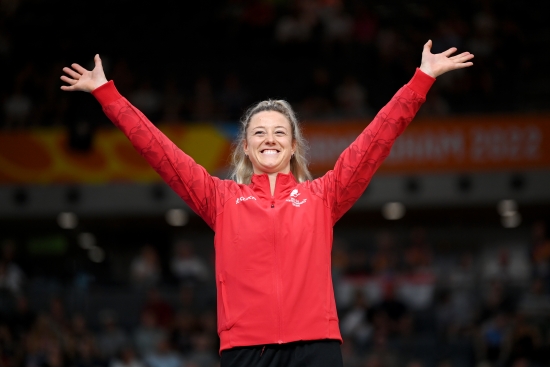 July 31, 2022: Canada's Kelsey Mitchell of Sherwood Park, AB, reached the Commonwealth Games podium for the third day in a row at the Lee Valley VeloPark in London.
Her third silver medal of the Games came in the Women's 500m Time Trial with a time of 33.294 .
Asked about winning today's silver, Mitchell said, "It's not a new experience for me this weekend! I don't usually do the 500, so to do it here and walk away with a medal, I'm really excited .. It was a personal best."
Kristina Clonan of Australia managed to edge out Mitchell by .06 in a time of 33.234.
Mitchell raced early on in the time trial event and had to wait for others to finish, saying it was "an emotional roller coaster, just waiting to see and it came down to the very last rider and I knew she'd be fast, and it would be close."
Sophie Capewell of England took bronze in a time of 33.522. Canada's Sarah Orban was 14th in this race.
Also today at the velodrome, a dramatic crash took place during a men's (15km Scratch) race earlier. Three cyclists and two spectators were treated by medical staff. Injured cyclists included England's Matt Walls, Isle of Man cyclist Matt Bostock and Canadian Derek Gee. Early reports indicate that Gee's injuries are relatively minor, but he is being observed by medical staff.
Also today, Maggie Coles-Lyster of Canada narrowly missed a medal, coming fourth in the Women's 25km Points Race.
Contact information for Team Canada media attachés can be found on the Team Canada 2022 Media page.