Inaugural Women's Coaching Program Deemed a Success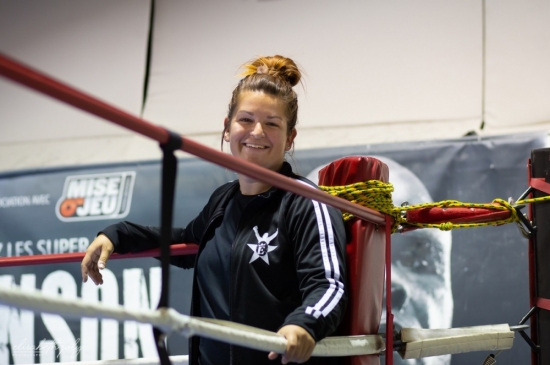 Photo: Eve Fortin (Elizabeth Joly Photographe)
By: Sheila Robertson
Various initiatives aside, women coaches continue to be chronically under-represented in high-performance sport in Canada. It is a situation that Commonwealth Sport Canada (CSC) is tackling through the Commonwealth Women Coach Internship Program (CSC-WCIP), which recently wrapped up its inaugural edition.
As CSC President Richard Powers noted, "There is a great need to have more Canadian women in high performance coaching roles. We hope the CSC-WCIP will help to address this need."
Added CSC CEO Brian MacPherson: "Equality is a core Commonwealth Value and CSC is committed to achieving in every aspect of its operations and programming, including women coaches on Canada's teams to the Commonwealth Games. Research proves women coaches motivate girls to participate in sport. Sport Canada agrees, and CSC is grateful their support."
Selected in August 2020, boxing coach Eve Fortin of Quebec City, swim coach Zoe Miles of Sackville, N.S., and wrestling coach Breanne Graham of Calgary, Alta, were guided throughout the mentorship by Jill Perry, ChPC, the president and head coach of the Beaver Boxing Club in Ottawa, Tina Hoeben, ChPC, the head coach of the KISU Swim Club in Penticton, B.C., and Martine Dugrenier, a former world champion who coaches at the Montreal-YMHA Elite Wrestling Club. The three mentor coaches were Canada's representatives when the Commonwealth Games Federation launched the WCIP at the 2018 Commonwealth Games in Gold Coast, Australia.
The CSC-WCIP was led by former Olympic coach Sheilagh Croxon of Etobicoke, Ont., who designed and implemented both WCIPs. Communications support was provided by Sheila Robertson, an author and editor of the Canadian Journal for Women in Coaching (https://coach.ca/canadian-journal-women-coaching).
"Gaining experience at a major Games is a vital component in helping women coaches to build their resumés and advance on the high performance career pathway," said Croxon. "This experience, combined with mentorship and the focus on the development of key leadership skills, will help to lay the foundation to change the low representation of Canadian women coaches currently in the high performance system. We need all partners in the Canadian sport system to work together to address the current landscape."
Given the restrictions imposed by COVID-19, comprehensive 90-minute Leadership Development sessions were held virtually and included a Program Overview and Introduction of Learning Plans and the Coach as Leader, both by Croxon; the Myer Briggs Type Indicator by Olympic medallist Dr. Claire Carver Dias of Burlington, Ont.; the Art and Science of Effective Communication by Olympic medallist Lisa Alexander of Mississauga, Ont., who is the executive director of Skate Ontario; and Understanding and Navigating the Canadian Sport System by Lorraine Lafrenière of Ottawa, CEO of the Coaching Association of Canada. Providing the interns with a national or international coaching opportunity remains on hold pending the easing of COVID-19 restrictions.
The mentor coaches met monthly with the interns and provided targeted support, debriefings, monitoring of individual learning plans, and networking techniques. Croxon was available to mentors and interns throughout the CSC-WCIP.
The interns strongly support the CSC-WCIP.
"I felt lucky to be selected, especially since the Sackville Waves Aquatic Team is not quite ready to make the jump into national team performances, but everything I've learned will help me to keep building it into a province-leading team," said Zoe Miles. "It is exciting and encouraging to take part in a program that supports women in coaching, to learn from people I would not otherwise have been able to connect with, and then to bring so much back to my team.
"For me, the major learning was from being with women coaches from different sports," said Eve Fortin. "I have learned so much from the development sessions and from Jill, who has so much experience and is so willing to share it with me. Because of COVID-19, my internship is a work in progress, but whenever Boxing Canada opens more opportunities, I will be ready."
"There's a lot of positives and I have learned so much, especially from the personal development side of the CSC-WCIP," said Breanne Graham. "Martine has been an amazing mentor … she consistently raises questions and makes suggestions for me to try … and to learn how to continue a wrestling program, during a pandemic. She also made it possible for me to take a course to be certified to coach internationally, which is important since I aspire to coach at the high performance level."
For the mentor coaches, the CSC-WCIP has provided an opportunity to build on their positive experiences in Gold Coast.
"It was a real highlight for me to be involved with this WCIP and I hope the informal part of the mentorship with Zoe continues after the formal sessions end," said Tina Hoeben.
"Eve and I are planning to bring together some women athletes from each other's club so we can continue working together as women coaches in our sport," said Jill Perry. "There are so few of us and so we have to start mentoring our women athletes and show them that they, too can coach."
"It's great to be part of this program; we see so clearly how the interns have grown since our first meeting," said Martine Dugrenier. "Breanne and I are thinking about the Junior Pan American Games, and I will keep pushing for that. It is so cool to see everybody's growth."
Eve Fortin is the head coach and executive director of the Empire Académie, a boxing club in Quebec City. Her responsibilities include the club's competitive stream and Sport Études. She is also the coordinator of Quebec's Women's Elite Team. Fortin is certified Level 3 – Boxing and is working on National Coaching Certification Program (NCCP) Competition-Development. As a boxer, she competed in 90 amateur bouts and won two national championships. She graduated from a languages program during CEGEP and has a college certificate in Event Organization and Management. Fortin is the mother of three children under four years of age.
Zoe Miles is the head coach of the Sackville Waves Aquatic Team and a volunteer coach with the Dalhousie University Varsity Swim Team. She has a psychology degree from the University of Calgary, is a NCCP Senior Coach (Level 3) Certified and is president of the Nova Scotia Swim Coaches Association. Swimming Canada selected her for its Women in Leadership Program. As a swimmer she competed at the 2008 Olympic Trials and at three world championship Trials and was a national qualifier from 2003 to 2012.
Breanne Graham is the head coach of Team Alberta Women, the Junior Dinos wrestling program, and the Calgary Sports Hub. She has a master's degree in Geology from the University of Calgary. Graham has completed NCCP Wrestling Introduction to Competition and is working on the Competition-Development segment. A 12-time Canadian champion, her wrestling career was highlighted by medals at the junior world championships, three Senior World Cups, the World University Championships, and 12 victories at the Canadian championships. She is also the mother of two children.
Jill Perry, ChPC, is the president and head coach of the Beaver Boxing Club in Ottawa and a member of Boxing Ontario's High Performance Committee. She is a former Canadian champion. Perry has a commerce degree from Carleton University and is completing a master's of High Performance Coaching and Technical Leadership at the University of British Columbia. She has a background in marketing and worked in High Tech for 20 years.
Tina Hoeben, ChPC, has been the head coach of the highly successful KISU Swim Club in Penticton, B.C., since 1998. She earned a Bachelor of Science (Hons) from the University of British Columbia, a Bachelor of Fine Arts (Hons) from the University of Victoria, and a master's degree in Visual Art from York University. An NCCP Senior Coach (Level 3) certified, Hoeben is the first ever Swim BC Female Coach of the Year. She has held several team coaching assignments, including the world junior championships, Team BC at the Canada Games, and as men's coach at the Western Canada Games.
Martine Dugrenier holds two bachelor's degrees, a master's degree in education, and NCCP Wrestling Competition-Introduction Certified and Competition-Development Certified. She is a three-time world champion in wrestling and a two-time Olympian. A teacher at Vanier College, she is also a coach at the Montreal-YMHA Elite Wrestling Club and executive director of Fédération de lute Olympique du Québec.