Athletics Team Ready to Compete at the 2022 Commonwealth Games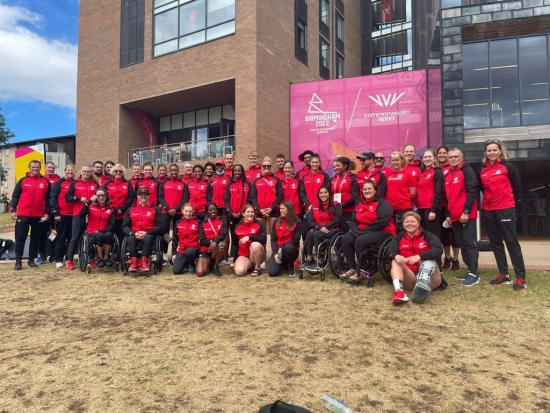 The athletics competition at the 2022 Commonwealth Games in Birmingham, England, begin on Saturday, July 30 and run through Sunday, August 7.
Thirty-seven Canadian athletes (14 men and 23 women) led by three defending Commonwealth medalists, a recent world silver medalist, 17 defending Canadian champions and the world's fourth-ranked shot putter will face competitors hailing from 72 Commonwealth countries and battle for medals in one of the top sporting events of the year.
As it was during the opening ceremony, Josh Cassidy will lead Team Canada into competition. The three-time Paralympian and Boston Marathon wheelchair race champion bore the flag through Alexander Stadium on Thursday, and will be the team's first track and field athlete in action when the marathons kick off on Saturday.
Carrying the flag was awesome... one of those "pinch me" moments you never think you'll get as an athlete," said Cassidy. "Just an amazing surprise and so special."
The marathoner said the Commonwealth course will present a hefty test.
"It to be very dangerous and technical, with more elevation than New York or Boston marathon. So it will be a tough one, but I'm looking forward to the challenge of it - always.
The rest of the athletics competition will take place between August 2 and 7. Canada's team will feature superstar throwers like world silver medalist Camryn Rogers and fourth place finisher Sarah Mitton, but will be without 2022 World Championship podium finishers Andre De Grasse, Aaron Brown, Jerome Blake, and Pierce Lepage, who all withdrew from the Games after completing their events in Oregon.
At the last Commonwealth Games in Gold Coast, Australia in 2018, Team Canada was led by Alysha Newman, Christabel Nettey and Alex Dupont's respective first place finishes in the women's pole vault and long jump, and men's 1,500m (T54), and came away with a total medal haul of two golds, six silvers and one bronze.
See complete list of athletes and coaches here.
Want to be up to date on Team Canada's news and results at the Commonwealth Games? You can find Team Canada's schedule here, and the overall Commonwealth Games schedule and results here. Finally, click here to watch the FREE exclusive live stream coverage on CBC.